Clinging to her mother, seven-year-old Anika Habib looks much younger than her age. With just seven-kilogram weight, her emaciated face and wrinkled skin seem to have no flesh beneath. Even the slightest movement causes so much pain in her muscles and joints that she begins to moan.
A resident of Bilal Ganj area near Data Darbar in Lahore, she contracted diarrhea virus simultaneously suffering from vomiting four years ago. Her parents took her to the nearby Mayo Hospital where after examination, the doctors concluded that she needed blood transfusion immediately.
Complying with the doctors' advice, Anika's uncle arranged blood for her through a personal source because no one's blood in her own family matched her blood group. Her mother recalls that the arranged blood seemed thicker than usual, like milk gone sour.
Even then, without following the medical protocols to examine whether the donated blood was safe it was transfused to Anika which further worsened her condition. Resultantly, pus-filled blisters appeared all over her body, even inside her mouth. Besides, her gums became swollen and turned purple and her throat and chest became severely inflamed. At the same time, she suffered from constant fever, vomiting and diarrhea.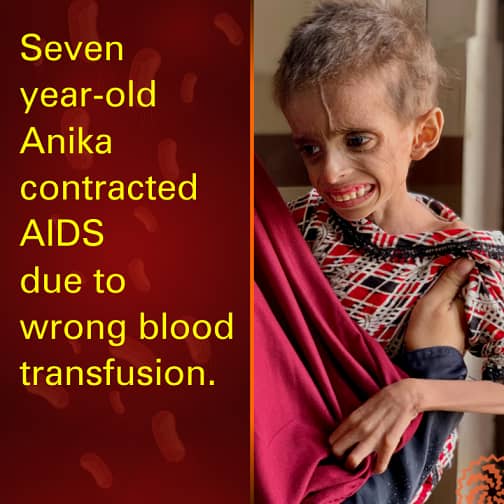 Anika's mother says after suffering from the same condition for a year, her daughter got pneumonia. Finally, 10 months ago, a doctor advised her parents to get her tested for acquired immunodeficiency syndrome (AIDS). The report of the test declared that she was tested positive for the human immunodeficiency virus, which may lead to AIDS.
Anika's parents also got themselves tested for HIV but neither of them was diagnosed with this virus. This, according to her mother, suggests that her daughter contracted the HIV because of the blood transfusion.
In mid-August 2021, Anika's 29-year-old burqa-clad mother Noor Habib took her to the Services Hospital in Lahore for treatment, frequently wiping her daughter's face, unintentionally, while waiting for the doctor.
Anika has been undergoing treatment at this hospital since May 2021. During this time, she has been hospitalized thrice for several days. Her mother says each hospitalization cost 50,000 rupees, but her condition continued to get worse.
According to Noor Habib, Anika weighed 11-kilogram before her treatment started at the Services Hospital. It has now dropped to seven-kilogram. "I do not know how to save my daughter's life," she says.
A deadly inheritance
Ayesha, the wife of Tahir who is a Faisalabad-based vegetable seller, conceived for the first time in 2018: five years after their marriage. It triggered a feeling of great happiness among his extended family.
At the time of delivery, Ayesha was taken to a local private hospital where she suffered from heavy bleeding. To make up for this lost blood, the doctors transfused her the blood, which was examined for all the diseases except HIV.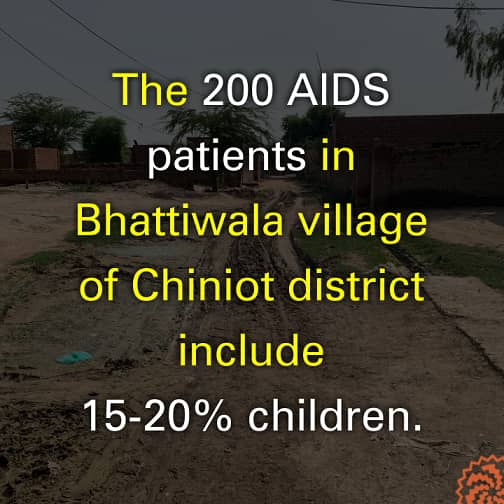 Ayesha regularly breastfed his newborn, whom he named Muhammad Ahmed, for two months but then he became sick and started getting weak. For the next two months, he was treated at the Children's Hospital, Faisalabad, but his condition worsened instead of getting better.
Ayesha later got Ahmed examined at a private clinic near her home. A doctor there tested him for HIV which showed that he had contracted the deadly virus. A similar test, later, confirmed the presence of HIV in Ayesha too.
After the diagnosis, the child was treated in Faisalabad for some time but then the local doctors suggested his parents to take him to Lahore. Now, every other week, his grandmother, Tahira Bibi, brings him and his mother via train to the Services Hospital in Lahore for examination and treatment. Whenever the baby's condition worsens doctors admit him in the hospital for a week.
Tahira Bibi says she stays with her grandson all the time, cuts his nails, bathes him and combs his hair. According to her, he cannot eat anything so he is given only juice which is usually poured into his mouth through a syringe while he is asleep.
Tahira Bibi also says she has not told anyone in her family about the disease her grandson and daughter-in-law are suffering from. She has kept it a secret even from her married daughter because, according to her, "we do not want people to say anything awkward about us or stop visiting us."
A social curse
Bhattiwala is an off-road village 17 kilometer southeast of Chiniot city in central Punjab. It gives the look of a haunted place.
On a recent afternoon, in its almost deserted streets, a few children could be seen running under acacia trees, throwing pebbles at each other.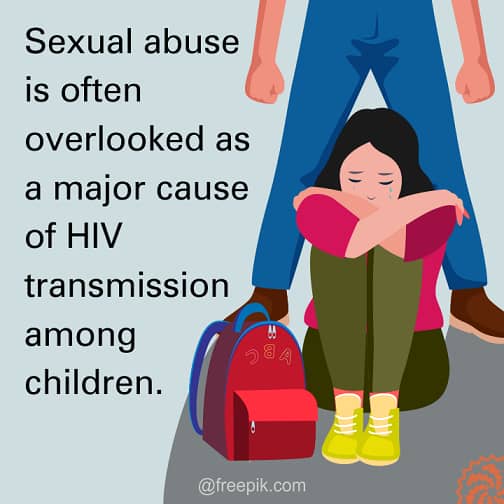 The residents of Bhattiwala are considered untouchables as more than 200 AIDS patients have been reported here in the last few years. According to a doctor working at the District Headquarters Hospital in Chiniot, 15 to 20 per cent of these patients are children.
Samia Bibi is one of the local AIDS' patients. Four years ago, her first born, Usman, was also diagnosed with AIDS. He later died.
Samia says she had a persistent fever and body aches shortly after the marriage so her husband took her to a local doctor for examination and treatment. The medicine did not work.
Gradually, she became too fatigued to do household chores. Later, purple spots began to appear on her body so her husband took her to a homeopathic doctor several kilometers away from their village. He prescribed some medicine and reassured her that there was no need to worry.
In 2017, Samia finally found out that she actually had contracted AIDS. She was pregnant at the time.
A few months later, she gave birth to Usman, who was in a very poor health and died a month later. Meanwhile, when the villagers found out about Samia's illness, they started accusing her of having contracted this disease through sexual contact. "I don't know how I got this disease," she says.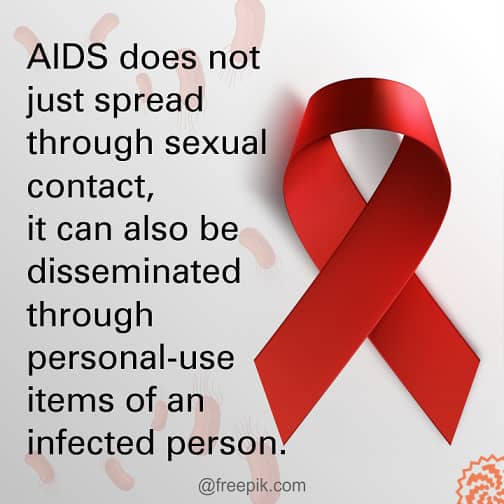 The villagers also started pressurizing her husband to divorce Samia. But before he could do so, she got pregnant again. Nevertheless, after the birth of her second child, her husband divorced her. She now lives in the same village with her sister.
Samia mentions her illness without any embarrassment but says that there are a number of people in Bhattiwala "who are not mentally prepare to accept that they have contracted HIV but I know many people who are silently dying of this disease''.
Explaining this social behavior, a doctor working in Chiniot District Headquarters Hospital says, "there is misconception in our society that the AIDS virus is transmitted only through sexual contact, and this myth leads to a social stigma."
However, according to him, "the truth is that the virus can also be transmitted through open wounds of an infected person and through the items he/she uses such as combs, blades and nail cutters."
He complains, wishing not to be named, that despite numerous AIDS awareness campaigns, "people still believe more in stereotypes than in logic."
Samia herself believes in these ideas to some extent and that is why she is reluctant to get her second son Rizwan tested for HIV.
How to prevent AIDS in children?
The first case of AIDS in a child in Pakistan was reported in 1987. The first reported child affected with the AIDS belonged to Rawalpindi who contracted the disease from his parents.
In the years that followed, the number of children infected with the virus gradually increased. In 1990, the number of such children was 100, which jumped to more than 6,000 by 2019. During this period, the annual deaths of children infected with AIDS also scaled up. Their death toll was 500 in 2010 but it rose to 900 in 2019.
According to the medical experts, in most of the cases the HIV-affected mothers transmit the disease to their suckling babies while they breastfeed them.
Another major source of transmission of the virus to children are addicts who inject themselves with drugs. According to a study by New Life Trust, a non-government organization, across Pakistan the AIDS virus is found in about 40 per cent of those people who inject drugs into their bodies: 50 per cent of them are married. The wives of 10 per cent of these drug addicts also have the AIDS virus which is finally transmitted to their children.
Professor Dr. Waheed uz Zaman Tariq, who heads the Department of Epidemiology at a private medical laboratory in Lahore, however, points out a reason for the spread of HIV and AIDS among children about which there is almost no public information. "One of the main reasons for the spread of HIV and AIDS among children is sexual abuse, which is often overlooked."
According to him, in order to control the spread of any virus, it is necessary to find out how and through whom it was transmitted to the infected person. But he says research on these questions in Pakistan is "not done as frequently as it needs to be."
Medical experts also believe that the most important step in preventing the transmission of HIV from infected mother to child is to regularly use anti-AIDS medicines during pregnancy.
According to Our World in Data, an online statistical database, the use of these drugs in Pakistan is still very limited. It says that only 1.38 per cent of pregnant women infected with HIV/AIDS sought treatment in 2010, compared to 2.36 per cent in 2014. Although 2015 saw a slight increase and the number reached 7.67 per cent, this rate has now dropped once again to 4.37 per cent.