Naziran Bibi starts her day before the sun rises. Right after she wakes up early in the morning, she walks a mile to get fodder for her buffalo. She then prepares breakfast for her family of six. After having breakfast herself, she goes to work in the fields where she picks potatoes for 10 hours straight.
On the afternoon of February 20th, 2022, she is crouched over her feet in a field, picking potatoes. She is also suffering from a high fever, cough and a severe back pain. Every once in a while she stops work to massage her back with her hands, takes some deep breaths and relaxes for a few moments before getting back to picking potatoes.
She can't rest for long, she says, because if she does, her family "will not have dinner tonight".
Bibi is about 55 years old and belongs to a village named 184/ 9-L, located 25 kilometres east of Sahiwal city in central Punjab. Her two daughters are also picking potatoes with her. One of them is 15 years old and the other is just 13.
All three of them will continue to work till sunset. Working with seven other labourers all this while, they would be able to pick potatoes from about one and a half acres of land and pack them in sacks. For all this hard work, they will receive five hundred rupees each.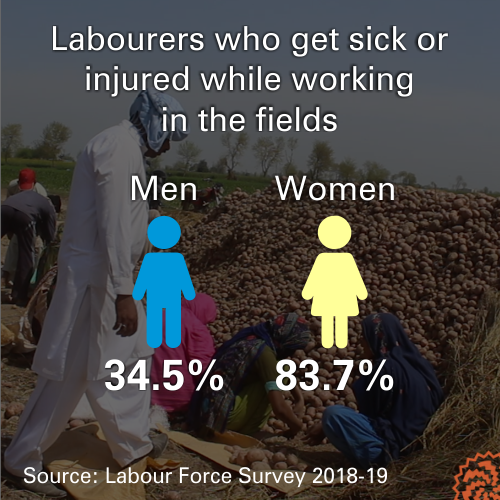 A year ago, she says, her daughters did not have to accompany her to work and she was also able to take a few days off if and when she got sick or had to attend to some domestic chores. All this changed when her husband died. He worked as a mason and, according to her, earned about 15,000 rupees every month. Her family also earned some additional money then by selling the milk of their two buffaloes and a cow.
Her husband died in an accident early last year. A few months later when she had to marry off two of her daughters, she had no choice but to sell her cow and a buffalo to pay for the wedding expenses. For both of these reasons, her financial situation has deteriorated to the point that she and her daughters are now "hardly able to put two meals together even after working in the fields all day."
After finishing her work in the field, Bibi does not have the strength to even stand on her own two feet. She has to hold her daughter's hand only to get up. Despite all this, she has no laments and complaints.
Muhammad Atiq, a doctor who runs a private clinic near Ada Naiwala Bangla, a bus stop near her village, treats hundreds of women like her every year. He also works as a medical specialist at Sahiwal's District Headquarters Hospital. He says most of the rural women who visit him for treatment suffer from the same condition of chronic pain in their back, legs and other parts of their body that Naziran Bibi is facing.
One of the causes of these ailments, according to him, is the nature of their work. The other is that they cannot afford a healthy, balanced diet, he says. "Skin diseases are also highly prevalent among rural women because their work requires them to keep their hands and feet in contact with mud and water for a long duration," he says.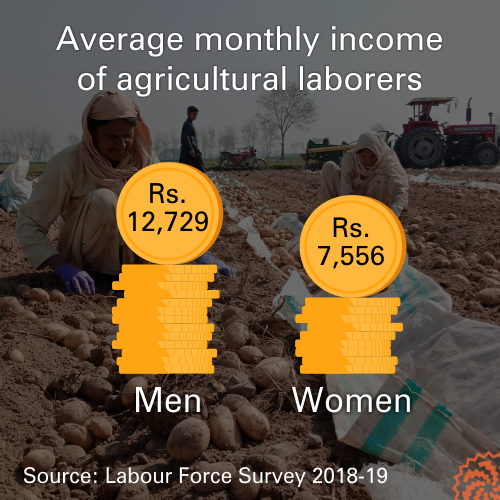 A survey conducted in 2018-19 by the Federal Bureau of Statistics on the working conditions of labourers also reveals that a major cause of illness among rural women is the work they do. About 84 out of every 100 women employed in the agricultural sector either catch various diseases or get injured while working, it says.
In contrast, 34.5 per cent of male agricultural labourers suffer from work-related diseases or injuries. This means that women agricultural labourers either work harder than men or are not provided with necessary safety at their work.
Gender gap
A group of labourers has been working since morning in another field in 184/ 9-L village in Sahiwal on the same day. Among them are 20 women. They are constantly bowed down to sow maize seeds in the ground while two men are handing them those seeds.
The men are monitoring the women as well – to see who is actively working and who is being lazy. One of them, Manzoor Hussain, is also the contractor for the group. His primary job is to find work for them, negotiate their wages and distribute the money they earn among them. The other man is the husband of a female labourer.
"The men have been given the task of handing the seeds to the women because they can run back and forth and deliver seeds to all the workers immediately," he says. Women are not able to move at a fast pace and assigning them this task can affect the performance of the whole group, he says.
A female worker smiles and rejects what he says. Men usually choose easy jobs for themselves, she says. Since sowing seeds is more difficult than providing seeds, she says, this work is assigned to women. She also mentions how the sowing of maize and rice, the picking of potatoes and cotton and the harvesting of wheat are all done by women. "If these jobs are easy, then why do men not do them and instead prefer to go to cities and work in factories?".
She, however, complains that, despite working harder than men, women are paid less than them. She is paid a maximum daily wage of 600 rupees, she says. On the other hand, each of the four men working closeby on preparing beds for sowing seeds earn 1000 rupees every day. She wonders what is the reason behind this discrimination when "there is no evidence that the yield of the crops sown and reaped by women is less than yield of the crops sown and reaped by men."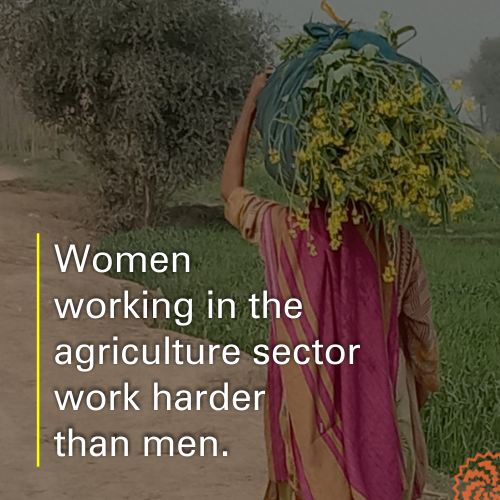 Confirming her complaint, the Federal Bureau of Statistics' Labour Force Survey for 2018-19 states that 56 out of every 100 women employed in the agricultural sector work more than 50 hours a week. On the other hand, it says, only 22 out of every 100 men work the same amount of time in a week. Yet, the average monthly wage of male agricultural labourers is 12,739 rupees while female agricultural labourers earn only 7,556 rupees per month on average.
In other words, women work two and a half times more than men do but they earn only 59 rupees for every 100 rupees earned by men.
Dr. Azra Talat Saeed, who heads Roots for Equity, a non-governmental organisation working to procure basic human rights for the marginalised sections of society, comments on this situation by saying that the labour done by female agricultural workers is considered inferior. "That's why they are underpaid," she says. "Sowing corn and rice is actually a highly skilled job because if the seeds or plants are not sown at the right depth or at the right distance, the crop yield will reduce". Yet, she says, when women perform these tasks, they are paid less than men simply because of their gender.
Exploitation galore
According to the 2018-19 Labour Force Survey, the total number of labourers in Pakistan is 68.7 million. Of these, 52.41 million are men and only 16.34 million are women.
The survey also reveals that the total number of labourers belonging to rural areas is 45.86 million. Of these, 32.36 million are men and 13.5 million are women. In 2019, out of all the rural women workers, 10.8 million (that is, 80.11 per cent) were working in the agricultural sector. Figures released by the World Bank, meanwhile, show that nearly 700,000 more women joined the ranks of agricultural labour between 2019 and 2020.
Also read this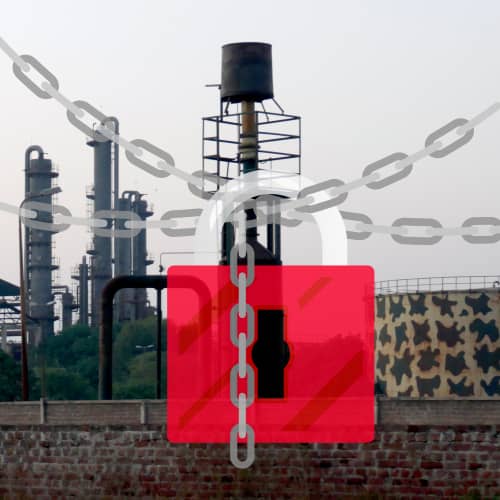 Phalia Sugar Mill: How its workers are paying the price for its financial and environmental impropriety
A United Nations report on the living conditions of rural women published in 2018 similarly states that the number of women working in Pakistan's agricultural sector is increasing. Yet it laments that the importance of their work is still not being recognized. It also states that women work in the agricultural sector out of necessity so they often do not have the agency to choose the type of work or negotiate their wages.
As a result, 60 per cent of them never get paid since they are taking care of their own family's crops and livestock. According to the United Nations, the annual economic value of this work is about 683 billion rupees which is 57 per cent of the total value of the work done by women labourers in the agricultural sector and 2.6 per cent of Pakistan's gross domestic product.
Dr Saeed, however, says that even those female agriculture labourers who get paid for their work are not paid regularly so it is incorrect to call their earnings as wages or salaries. "Wages or salaries are received every month but these labourers are only paid for the days when they are working".
They also do not have the right to take a day off on weekends and on public holidays.