The population of Jangrai, a village in the Tehsil Alai of Batgram, is two thousand, and they have to travel regularly to Batgram for basic necessities of life. The central market of Alai, the Government Model School, and the basic health unit (BHU) are all located there. Travelling from Jangrai to Batgram on foot takes more than an hour, and for years, people from both places used to travel by foot between the two locations.
In April 2019, people breathed a sigh of relief when a local individual installed a chair lift (cable car) from their village to Batgram. Now, the journey that used to take over an hour on foot could be completed in just five minutes using the chair lift.
On the morning of August 22, 2023, Gul Faraz, a 22-year-old shopkeeper from Jangrai, his 19-year-old brother Irfan Allah, and seven students from the school boarded the cable car to go to Batgram. However, on the way, a chair lift cable broke, and those on board got stuck at a height of three thousand meters.
The video of the stranded chair lift went viral on social media, and the incident was reported in both national and international media. After a 15-hour operation, the Pakistan Army's rescue experts and local mountaineer Bazam Shangla managed to rescue all the individuals by late 11 pm.
As a result of this incident, many questions arose. Discussions began regarding the permits for installing chair lifts, their quality checks, and more. While chair lifts were shut down and the owners were arrested, the fundamental question remained: What reasons compel people to adopt such risky modes of travel?
To find answers to these questions, we visited the area. Taking a turn towards Tehsil Alai from Karakoram Highway in Batgram, one can estimate the remoteness of this area. After travelling on broken, narrow roads for three hours, we reached Bana Alai, where we had to park our vehicle because only high-force four-wheel-drive vehicles could navigate the steep road to the Pashto.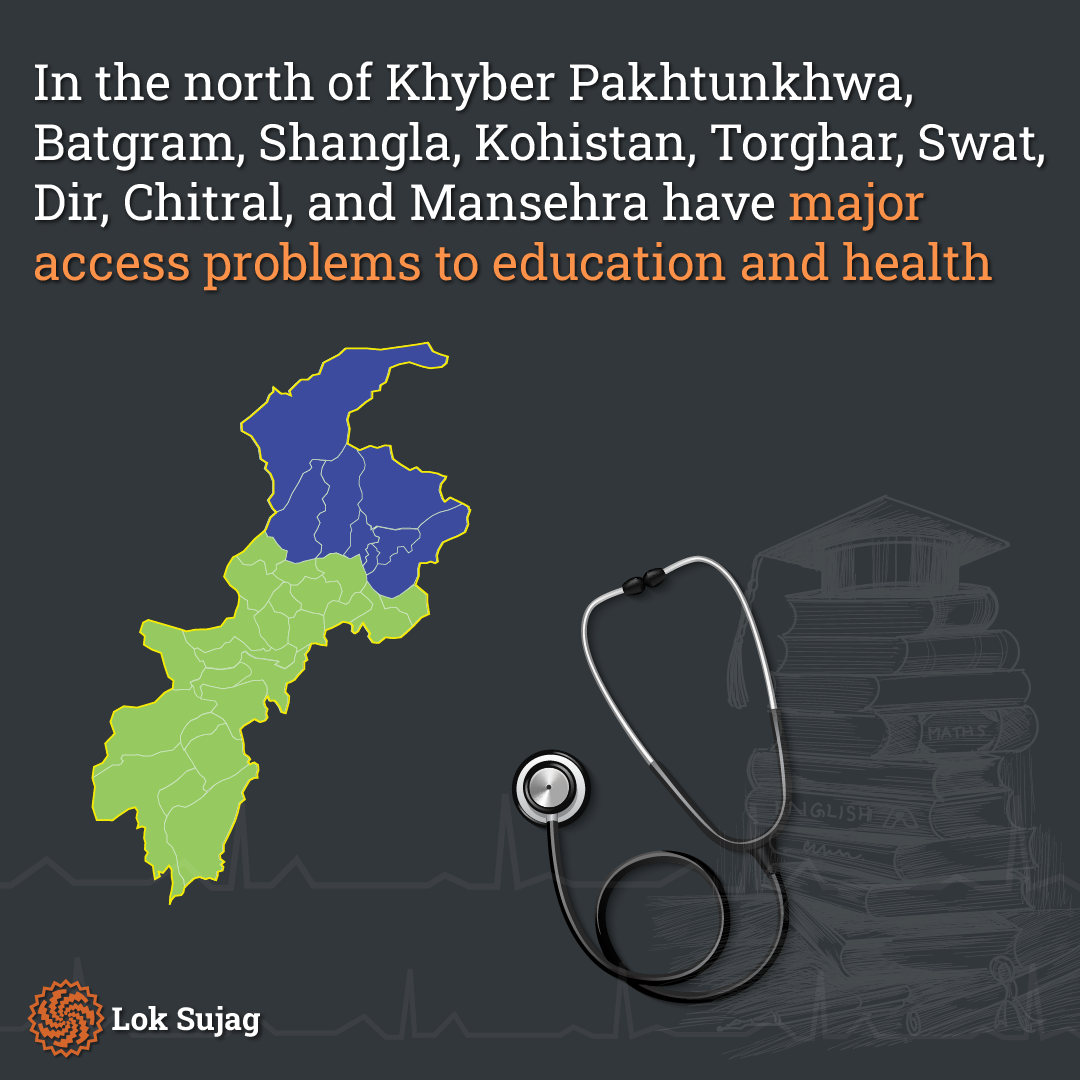 Travelling with local driver Parvez (also our Pashto translator) was challenging, complex, and dangerous. In three hours, we reached Pashto Batangay, and at the location where the chair lift got stuck, we looked down towards the river and then around, but there was no road in sight. It was there that we met Irfan Allah's father, 61-year-old Umariz. He said that before 2019, people used to travel daily across the river on the other side, a long journey that took more than two hours.
According to Umariz, there is only one primary school in Jangrai, and no special shops are nearby. The BHU is also in Batangay, so people have to commute daily between the two places, including many school-going children. He says there is no middle or high school in Jangrai, and the children used to go to school daily using the chair lift because walking was difficult for them.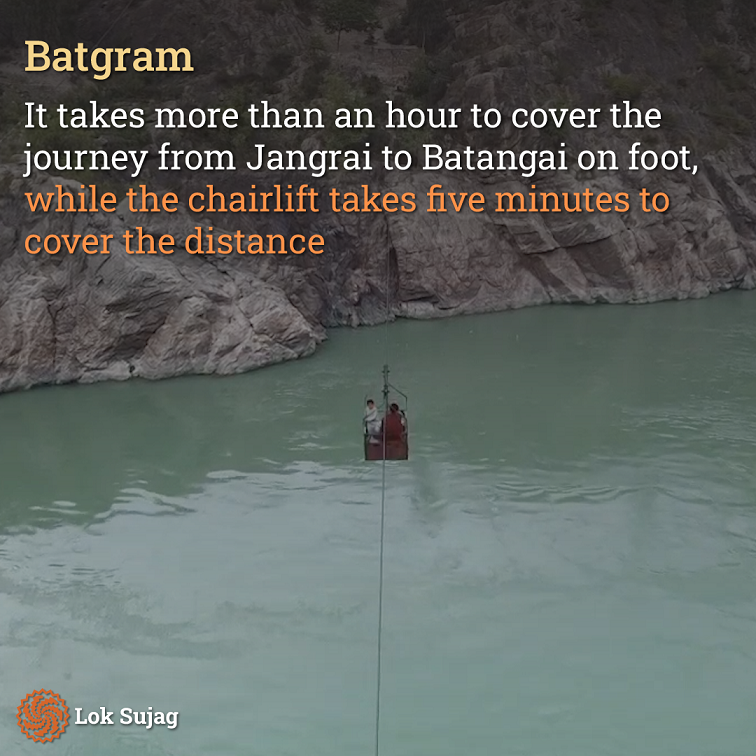 He says that if the chair lift did not exist, very few children could make the morning journey to the Pashto Batangay Model School on foot. It's a blessing for them.
Remembering the day of the incident, Umariz tells us that when he looked through the door of his house, he saw that everyone was riding in the chair lift, and as soon as he went outside, he heard a loud noise. He closed his eyes while reciting a prayer.
When Umariz opened his eyes, the chair lift had stopped dwindling, and it was hanging on one side while the schoolchildren on board were yelling.
Within a short time, the villagers gathered, but unfortunately, mobile phones were not working at that time because there were no mobile signals in the area from six in the evening till the sun appeared the following day. In such a situation, everyone went towards Pashto to inform the authorities.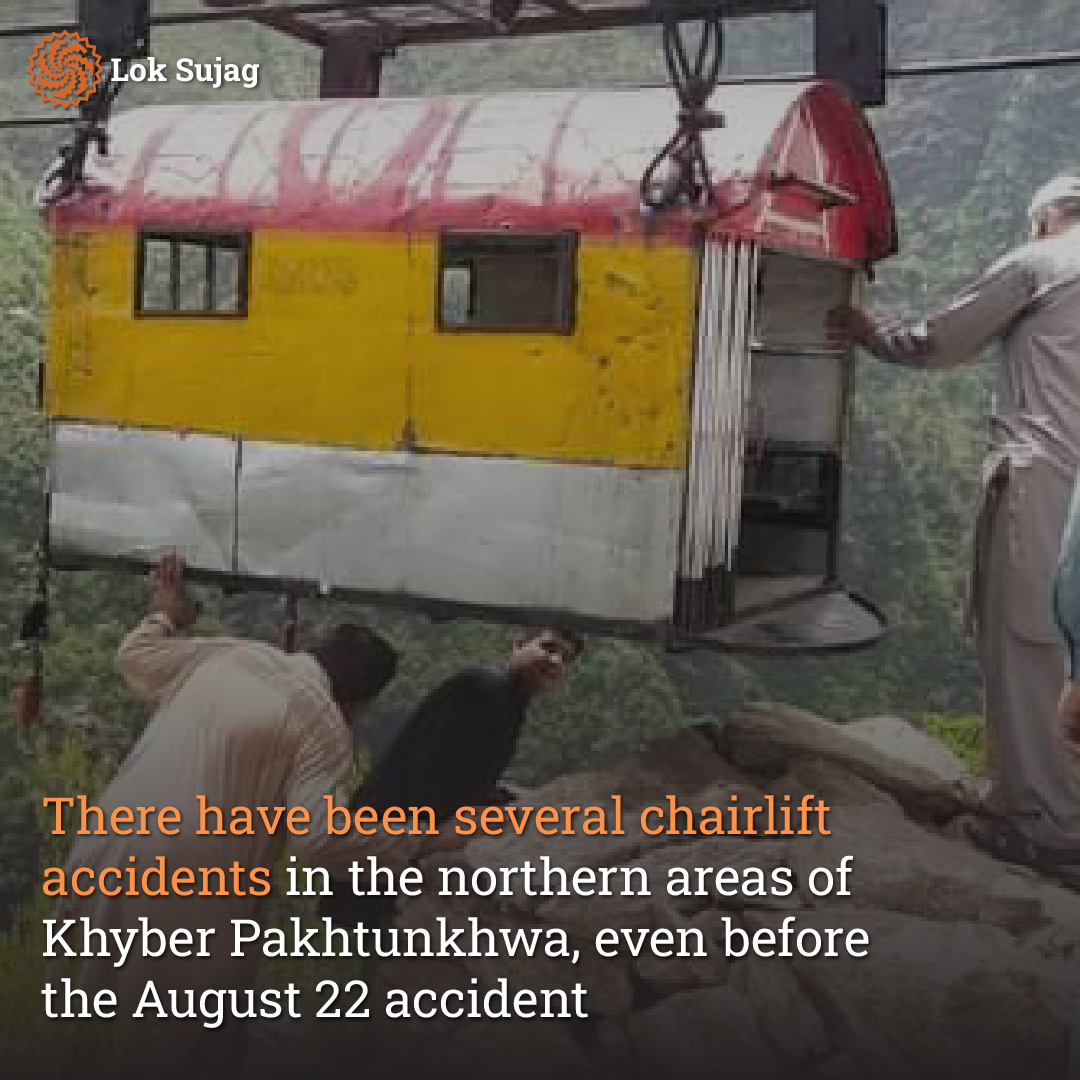 Twenty-year-old Gul Faraz was the oldest among the eight individuals who were trapped. He has a shop in Batagram. About that day, he recounted that when the rope of the chairlift broke, he also gave up on the hope of his life.
"When the rescue helicopter's rope got stuck with the chairlift rope, I was sure we would fall and die; however, since there were schoolchildren in the lift, which gave me hope. When Irfanullah fainted, efforts were made to revive him, and Irfanullah was the first to be secured with the helicopter rope because his condition was worse.
Gul Faraz mentions the risks of travelling in the chairlift by stating that accidents happen, and they endured a 15-hour struggle between life and death. Still, they couldn't say that the cable car endangered life. From 2019 until this incident, he has been travelling daily on the same chairlift to reach their shop.
"Planes crash, accidents happen on the roads every day. If the government builds bridges or roads in this area, then we won't need to travel on the chairlift anymore."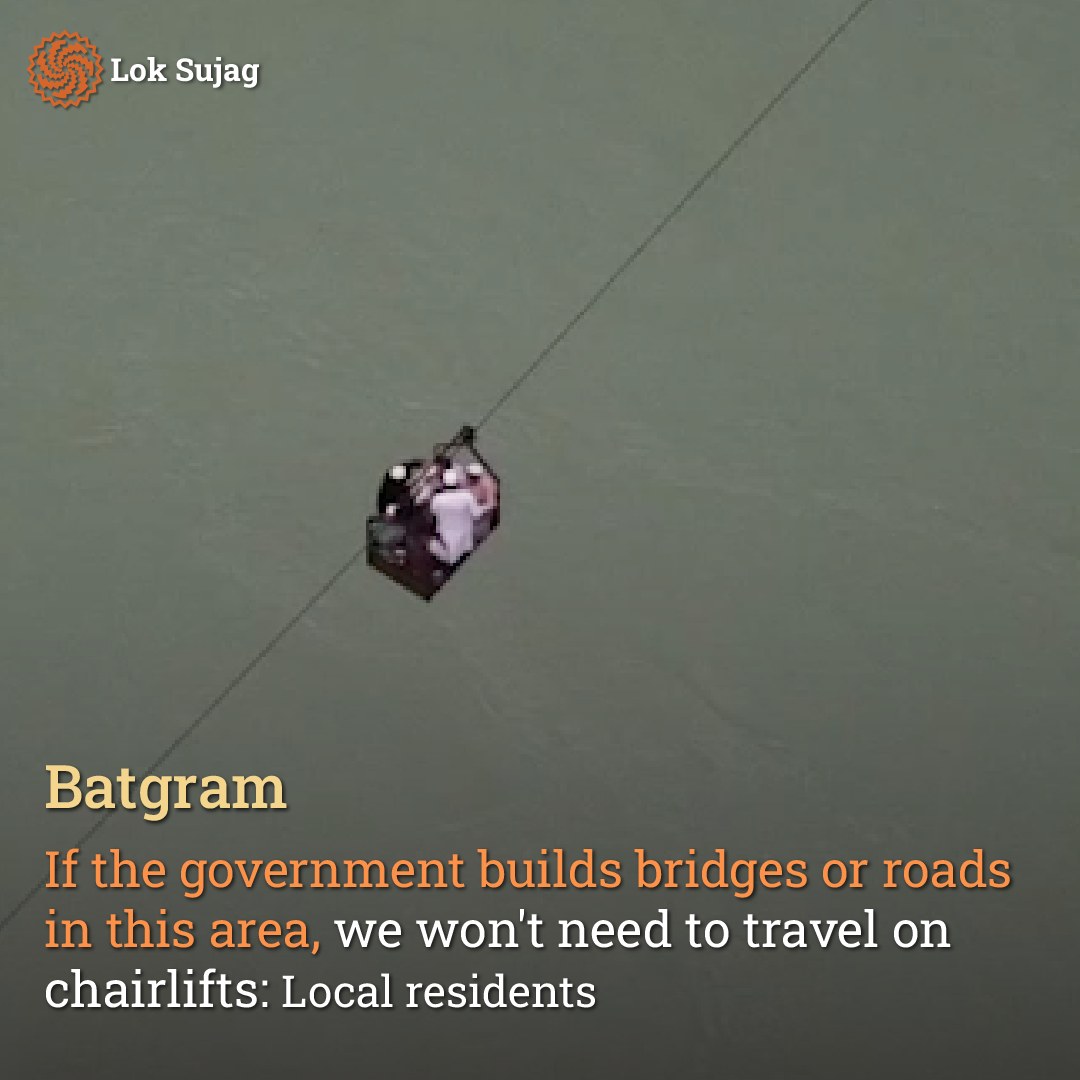 In the northern regions of Khyber Pakhtunkhwa, including Batgram, Shangla, Torghar, Mansehra, Kohistan, and various areas of Swat, cable cars and small baskets are operating high above streams and rivers. These hand-operated lifts are considered highly dangerous.
On June 24, 2023, in the Peshmal area of Swat, a mother and her newborn child drowned in the Swat River when the chairlift's rope broke.
Similarly, on December 30, 2020, the rope of a chairlift at an elevation of 3500 feet in Alpuri Kotke in Shangla broke, trapping two individuals. The rescue operation continued until late at night, and local villagers from Bisham safely exited them from the chairlift.
In Kundora, a village in the district of Battagram, an improvised chairlift was installed after the 2010 floods. Local people use it to travel from Quragaram Hayan Shang to Kundora, Alai.
This chairlift was installed by a 68-year-old local elder, Gul Zar, who oversees its operation. He, his relatives, and local people use this chairlift free of charge, and in a matter of minutes, they cross the Abbasin River.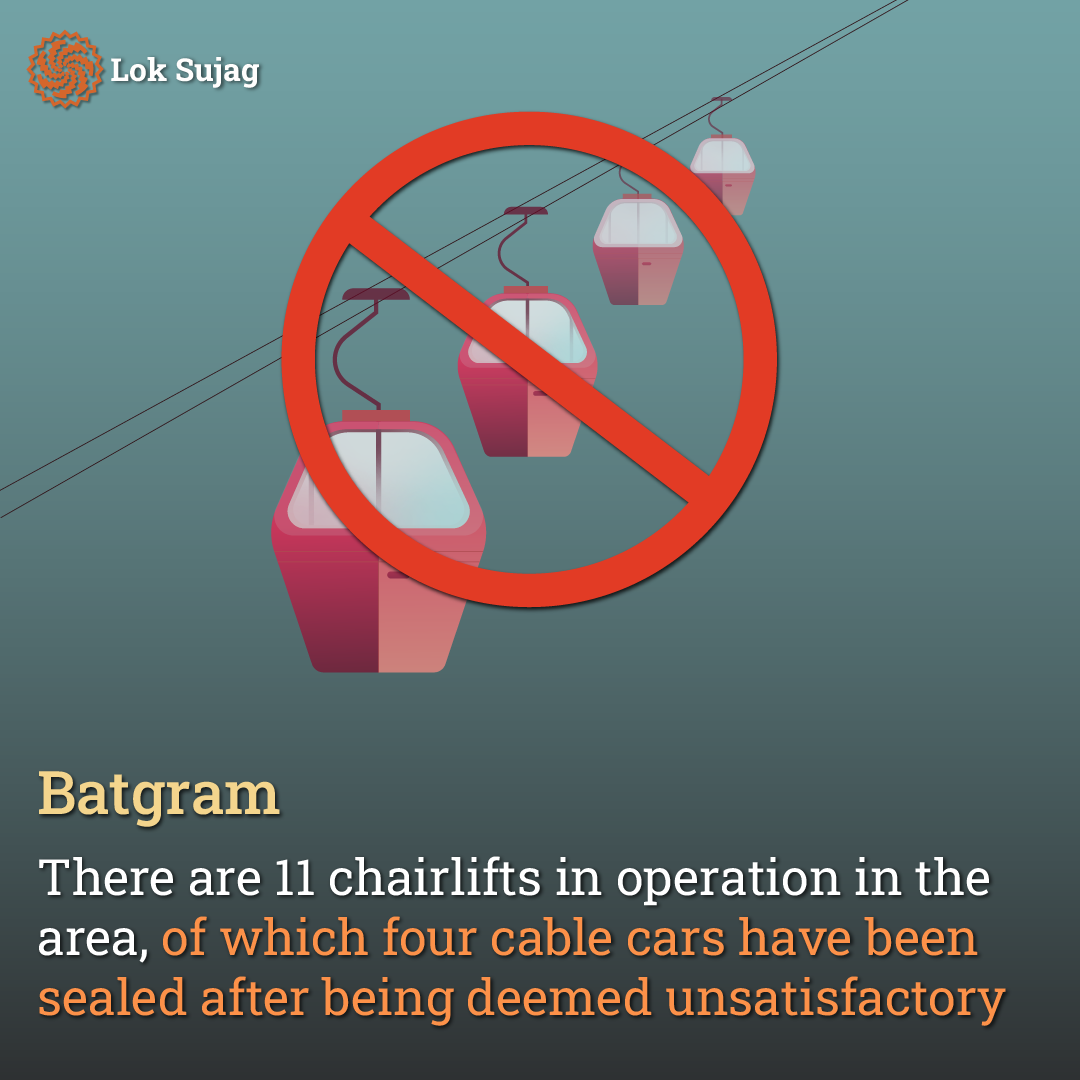 According to Gul Zar, this chairlift is the only means of connecting their village to other areas. Besides this, they have no other mode of transportation. Although the chairlift is in a deteriorated condition, and the government wants to shut it down, they don't have the funds for maintenance. They are trying to collect donations to maintain its ropes and foundations.
Kashif Muhammad Khan, a social worker from Batagram, has conducted several surveys on education and health in the Battagram district. He states that access to education and health services is a major challenge in the northern regions of Khyber Pakhtunkhwa, including Batagram, Shangla, Kohistan, Torghar, Swat, Dir, Chitral, and Mansehra.
"In these areas, 60 to 70 per cent of the population lives in the mountains, which makes it difficult for them to access education and health facilities because it takes them several hours on footpaths. In areas with no roads, people use the chairlift to quickly reach schools, markets, and hospitals to get there faster and return home on time."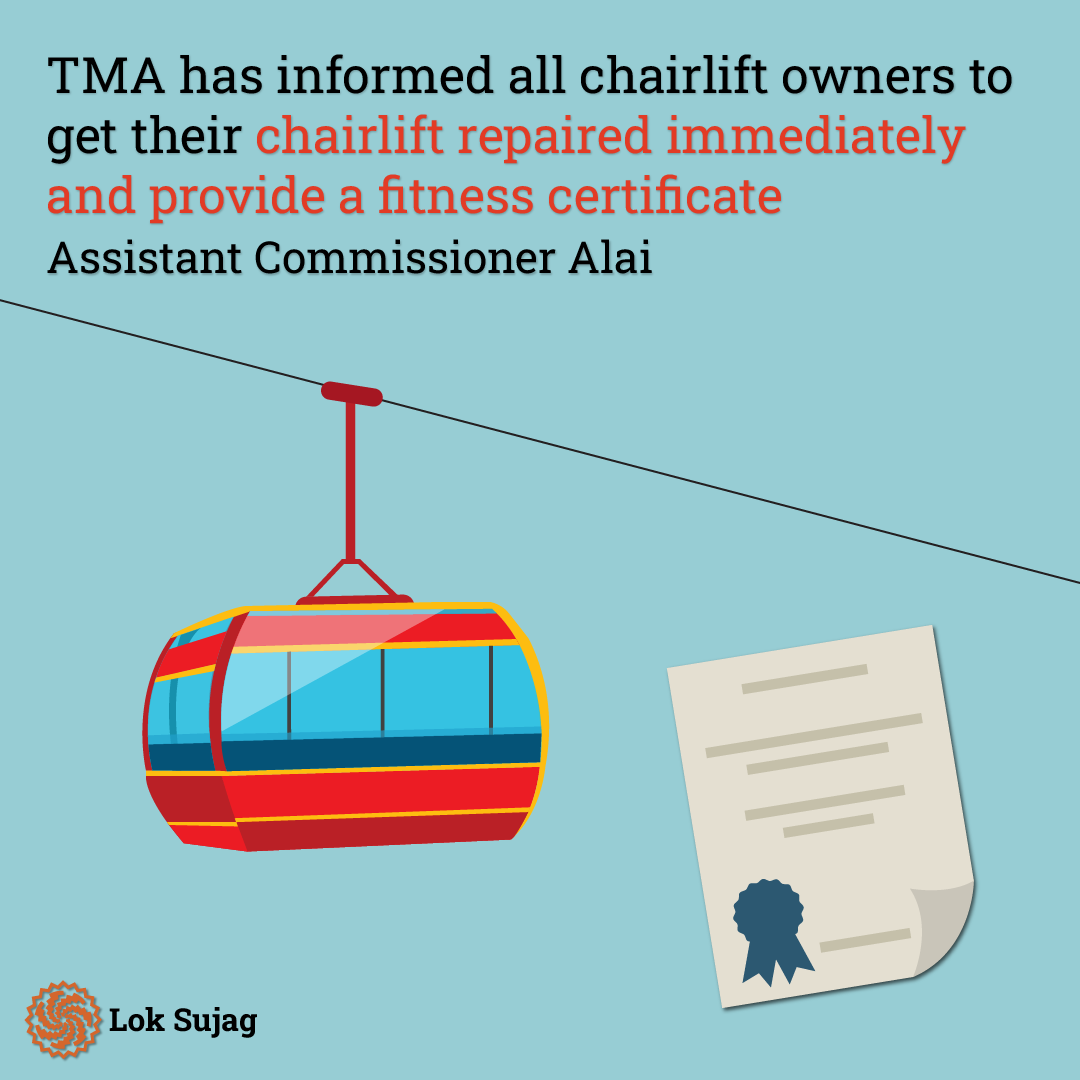 Where there are no roads, walking takes a lot of time, so people use chairlifts to go to schools, markets and hospitals to reach their homes quickly and return home on time.
Badar Munir installed a cable car from Kotke Bord to Mantrai Sar 17 years ago, where more than a hundred locals travel on it daily, and 30 rupees per person are charged.
He mentions that besides schoolchildren, jobholders also choose the chairlift for their daily commute between Mantri Sar and Alpori.
Regarding the maintenance and operation of the chairlift, he says they make every effort to conduct maintenance once a month because people's lives are precious. If the government shuts it down, then it should provide employment and build bridges for the thousands of people in Mantri Sar.
Also Read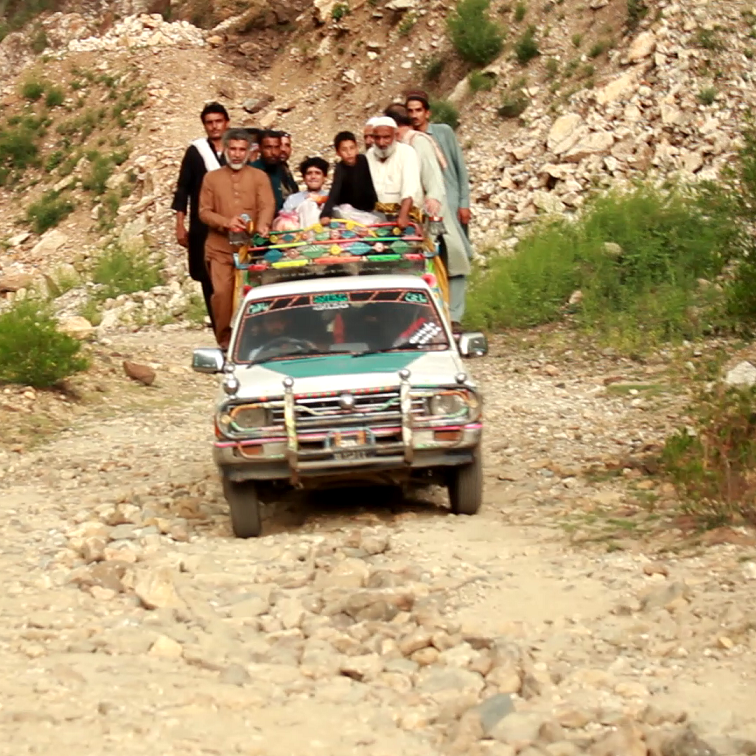 Decades of neglect: Allai's dilapidated roads pose daily perils as local lives hang in the balance
Deputy Commissioner of Batagram, Tanveer Ahmad, mentions that 11 chairlifts are operating in the region, with six in Alai and the remaining five in Batagram. However, Assistant Commissioner Alai Jawad Ali reported that four cable cars have been sealed after declaring them unsafe.
He says that all chairlift owners have been informed through TMA to immediately repair their chairlifts and provide fitness certificates from TMA offices.
Similarly, Deputy Commissioner Shangla Hassan Aabid mentions that there are nine chairlifts in Shangla, with seven being installed over the Abbasin River, which local people use for transportation.
DC Shangla mentioned that TMA has been directed to inspect them, and all chairlifts are being checked. Owners have been instructed to complete maintenance work and collect fitness certificates from TMA offices. Otherwise, legal action will be taken against them.
DC Shangla further stated that the people in these areas do not have suitable and affordable means of transportation for travel. If these chairlifts are maintained and serviced monthly, they provide the residents with a safe mode of travel.