The area in focus in the news regarding the recent cable car incident and the subsequent rescue operation to save people is Allai Tehsil, located in the northern district of Batgram in Khyber Pakhtunkhwa. The Pakistan Tehreek-e-Insaf (PTI) government had announced the elevation of Allai to district status while issuing a notification. Still, no official government activities at the district level have commenced.
According to local sources, the announcement to grant district status was primarily made for political gains, and it has triggered political tensions between the two prominent political families in the region, namely, the Ayub Khan family and the Tareen family, due to decades-long political rivalries. PTI aimed to consolidate its position by endorsing representatives from the Tareen family and its former assembly member, Zubair Khan.
Regarding practical measures, both roads leading to the beautiful tourist valley of Allai are in highly deteriorated condition. The first road connects Thakot to Jambil and then to Batgram, while the second road connects Besham to Pezing, Sugar Gah, and then to Shangla District. The condition of these roads is such that when we were reporting on them, we had to traverse through large ditches and dunes. Our driver mentioned that after rain, these roads turn into ponds where people often take their cattle for grazing.
According to the website of Khyber Pakhtunkhwa's Department of Communication and Works (C&W), there is no record of any project or tender for these two roads in the Annual Development Program (ADP) from 2019 to 2022, and no funds have been allocated for them.
The Besham to Banna Ali road passes through seven villages under three union councils. Allai is the main sub-district and serves as the authorised district headquarters. The nearest route to connect Allai and Banna Ali is via Karakoram Highway. However, no developmental work has occurred on this route since 1974.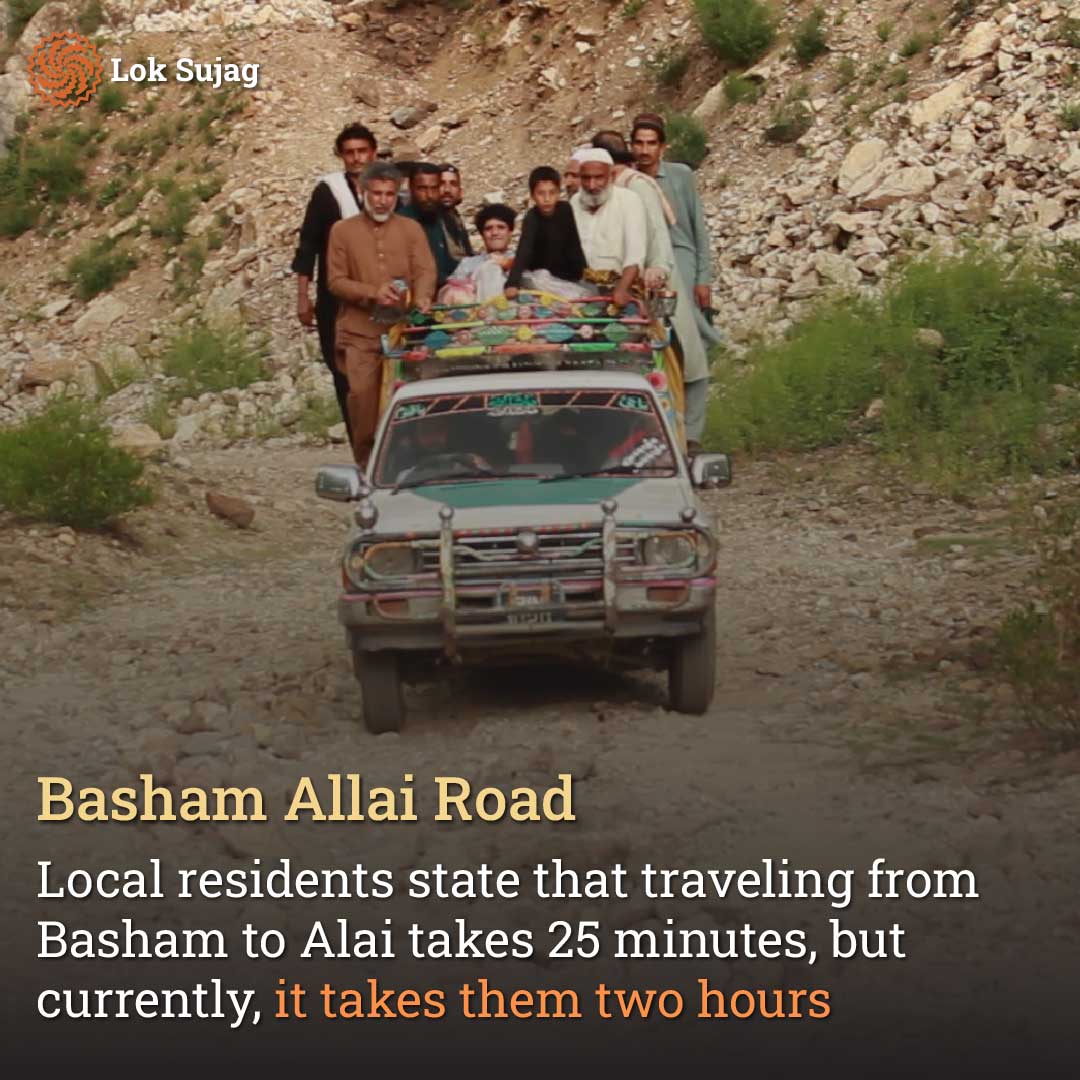 Syed Zada, a 60-year-old resident of Allai, comes from the village of Kund, and he remembers when this road was under construction; he was 19 years old at that time. Local workers were receiving a daily wage of seven rupees for their labour. Although he didn't get the chance to work on it then, he recalls that in 1974, after the earthquake, the Kohistan Development Authority was established, and it was under this authority that the road was constructed for the first time.
They say fifty years have passed, and work on this road has never resumed. In contrast, the conditions in the nearby Shangla district are entirely different, where many projects are either ongoing or have been completed. There are hospitals in Shangla; therefore, the Allai Sub-District, with a population of over two hundred thousand, relies on Besham (Shangla district) for medical treatment.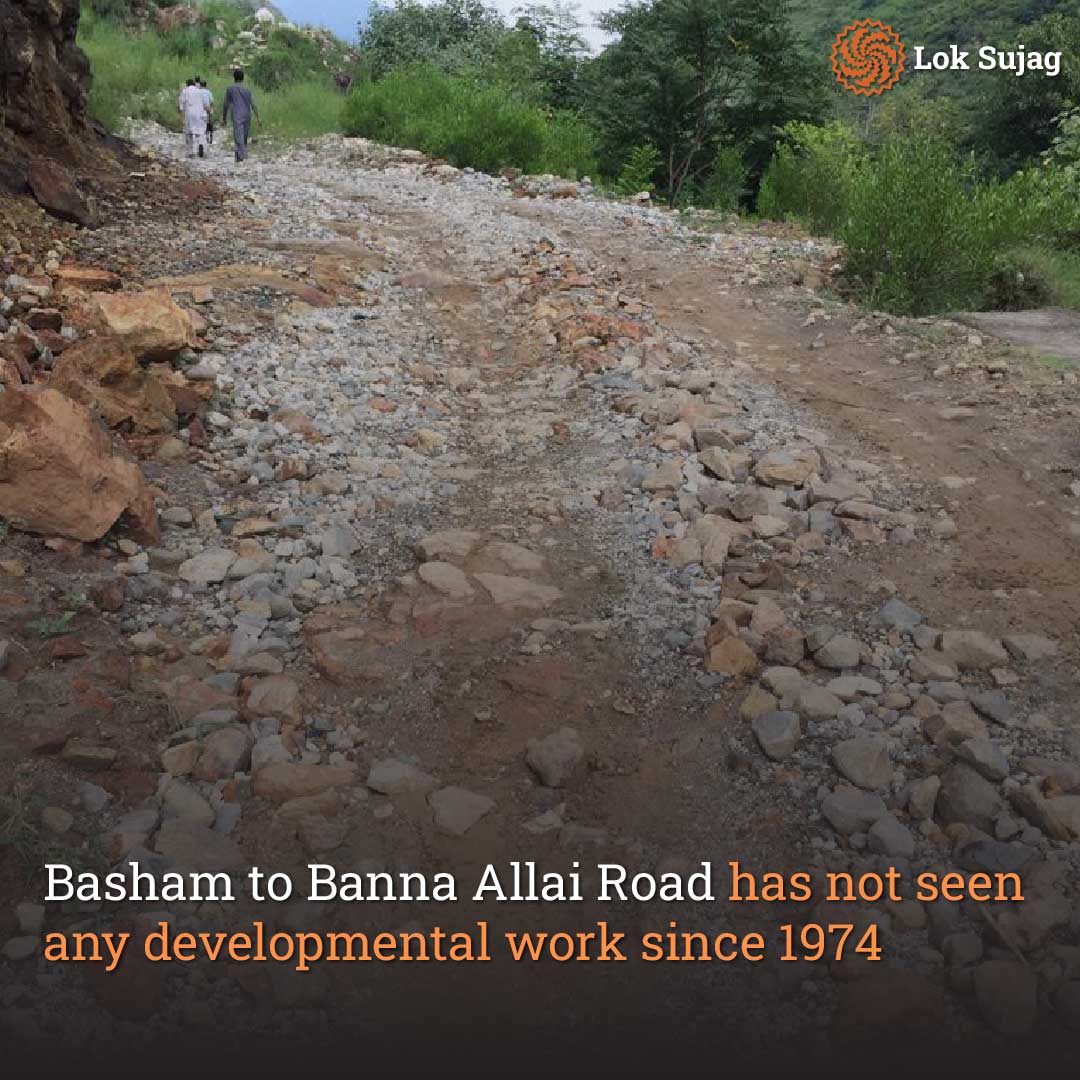 Syed Zada expressed his regret, saying that in the Allai sub-district, the prominent political families have successively held national and provincial assembly seats. The politicians from Telos are associated with the Jamiat Ulema-e-Islam (Fazl), while those from Biari were originally in the Pakistan Muslim League (N) and are now in the Pakistan Tehreek-e-Insaf (PTI).
"God knows why these two groups don't want the road to be built. No one in the area dares to talk to a Khan about building a road."
Shafiqullah, who hails from the village of Pezang in the l sub-district, has been driving a passenger double-cabin vehicle on the Besham to Allai road for the past six years. He says that driving here is very difficult. He transported a pregnant woman to Besham due to a medical emergency some time ago. To reach her destination on time, he and two others had to clear the road at more than a dozen locations, including using shovels and their hands, in a journey that typically takes one hour but took them a challenging three hours to reach the hospital.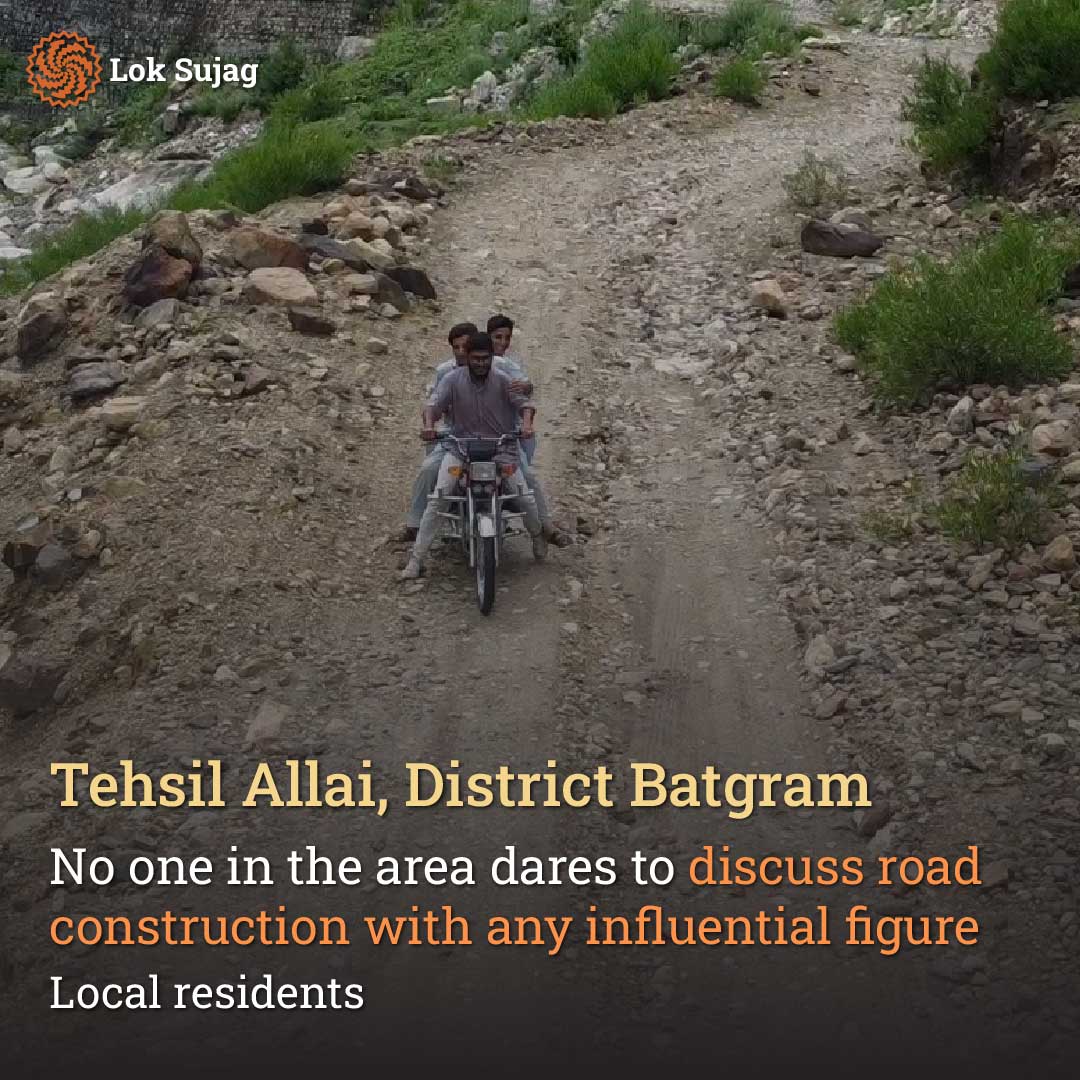 Shafiullah says there are many cases where women in labour died on the way because this road is too difficult for even healthy people to travel on.
"A week ago, I bought tires worth fifty thousand rupees for my car. But their condition worsened after only a few days of travelling on this road. I can hardly save Rs1,000 even after driving for the whole day.
"We, the local transporters, have collectively employed a workforce at a monthly salary of Rs 20,000 each. They are responsible for clearing the road, removing landslides, and making it passable in case of landslide in the sugar mill and Pezang area so that vehicles can pass through."
Muhammad Fayyaz travels on this road for work at a medical store in Bisham City and goes to Pezang in a pick-up vehicle. He says that his journey from Kund Pul to his home is troublesome because the vehicle bounces on stones and deep pits in such a way that he fears the vehicle might overturn.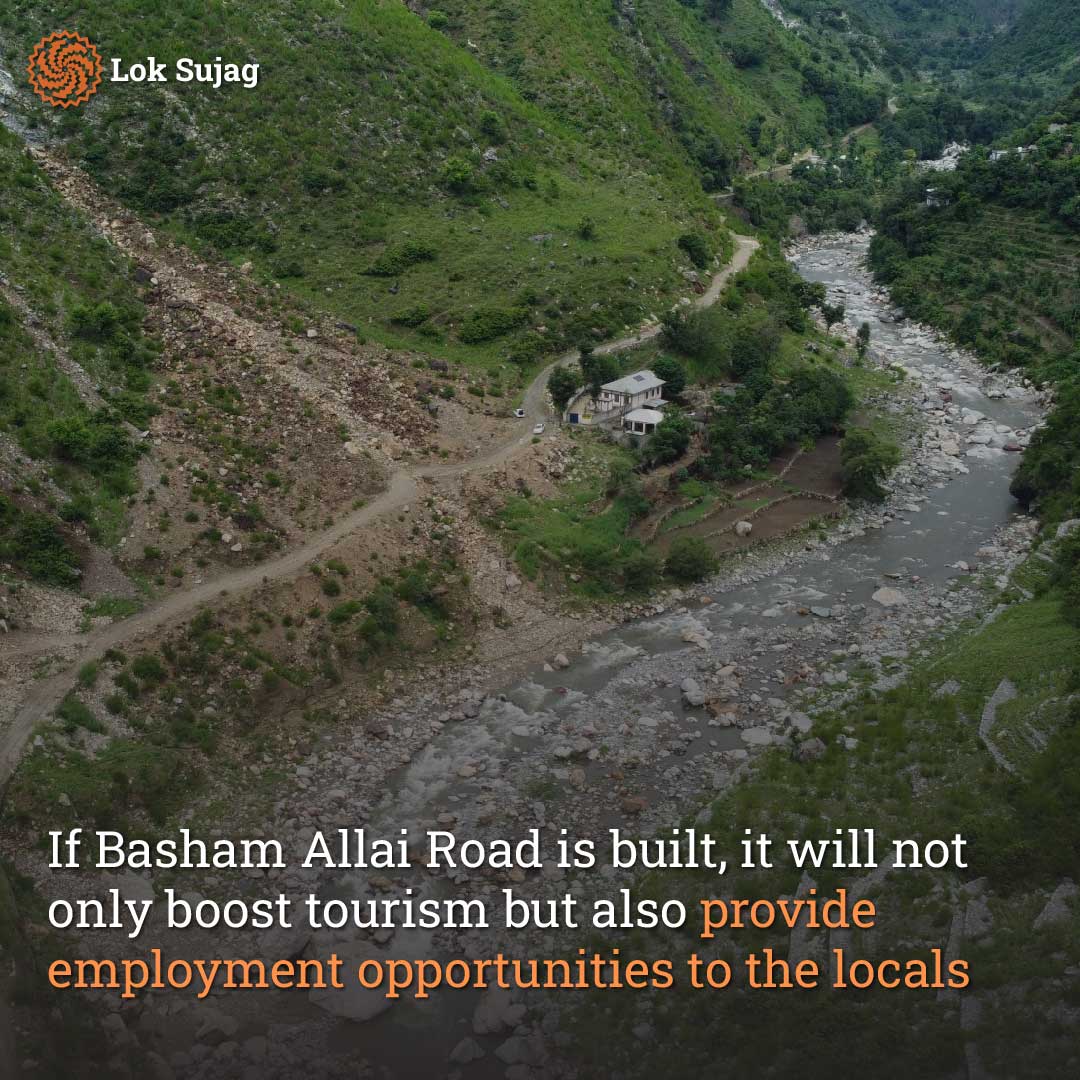 He says that many of his dear relatives and residents of his village have lost their lives in accidents on this dilapidated road. One of his cousins died in a traffic accident in 2009, while three brothers from his village also died on the same road.
A resident of Bela Pezing, Zabardast Khan, says that his beard has turned white, but in his entire life, he has never seen construction machinery on this road. Whenever landslides and rains block the road, local people gather with shovels and restore the road.
Abrar Khan has worked in an NGO in Basham for four years. He says that if the Basham to Allai Road is repaired, he can reach home in just 25 minutes. He travels from Thakot to Sobat Chirah to get to Allai, which takes him two hours.
Also Read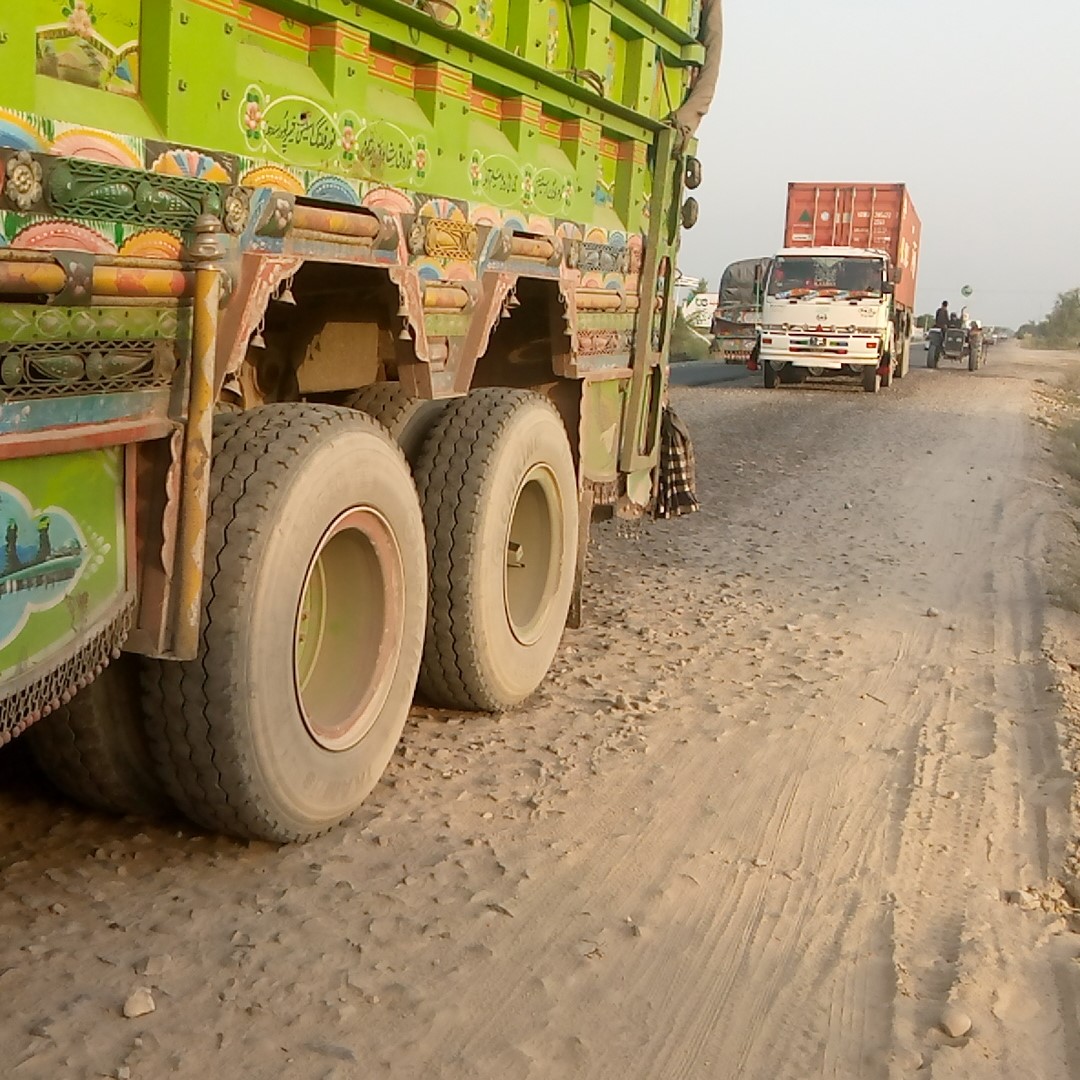 The perilous journey: Challenges and delays in reconstruction of MM Road leading to increased accidents
Abrar says that the beautiful valley of Allai can become a tourist attraction, but no one from outside comes here due to the poor condition of the roads. If the road is built, tourism will also employ the local people.
Mufti Ghulamullah, Tehsil Chairman of Allai belonging to Jamiat Ulema Islam (F), said that no one has ever paid attention to the development of Allai Tehsil and the condition of both roads is a clear proof of this. He blames the elected public representatives in the past for this situation.
In response to a question, he says that in 2009, the Agency for Rehabilitation of Earthquake Affected Areas (ERA) had provided funds for Bisham Allai Road, with which some cutting was done at some places. After that, there was not a single work done on the road.
He further says that if funds are available, the construction of roads will be among his top priorities. However, the local government department has not released any funds to him after the elections, and his becoming the chairman is not benefiting the people of the area. The talk of empowering the representatives at the grassroots level is nothing more than empty claims.