Wrapped in white garments, which look like shrouds, dozens of Afghan refugees protest under the blazing sun in front of Islamabad's National Press Club on May 9th, 2022. Their garments are inscribed with 'KILL US' in black ink.
These protesters are among thousands of Afghans who have come to Pakistan over the last several months in order to move to a third country. They have been protesting since April 18th, 2022. Many of them have made temporary shelters out of cloth while a few others have set up canvas tents and mosquito nets at the protest site.
Ahmad Zakriya Farooqi, 34, who is originally a resident of Kabul, is also participating in this protest. He reached Pakistan after crossing the Torkham border on November 28th, 2021.
He says he worked for a number of government and private organizations in Afghanistan over the past 14 years. One of them was an American-funded development organization. Through this organization, he started working with an American company that traced security threats in order to neutralize them. He, however, does not have any recent proof of having done all this.
He lacks the proof because of his absence at an event held in 2019 by the organization he worked with, he says. The event, according to him, was held at an American military base adjacent to the Kabul airport where certificates were distributed to the employees at the completion of their work. "I had just gotten out of a car near the airport when two Taliban assailants attacked me and hurt me badly so, rather than going to the event, I went back home," he narrates.
After the establishment of the Taliban government in Afghanistan in August 2021, however, he feared that he would be killed for having worked with Americans. In order to protect himself and his family, he left his ancestral home and moved into a rented house with his wife and two daughters.
At the same time, he says, he applied for a Pakistani visa. This took him about three months. He finally left Kabul along with his family in a taxi in the dark of the night of June 29th, 2021 at 3 am to reach the Pak-Afghan border. Once in Pakistan, they started living in Rawalpindi's Pirwadhai area in a rented house.
Although Pakistan has granted Farooqi a one-year visa, the local law requires that he returns to Afghanistan and then re-enters Pakistan every two months. "Not only will I have to bear additional expenses and make extra effort on travelling back and forth, it will also endanger my life," he says.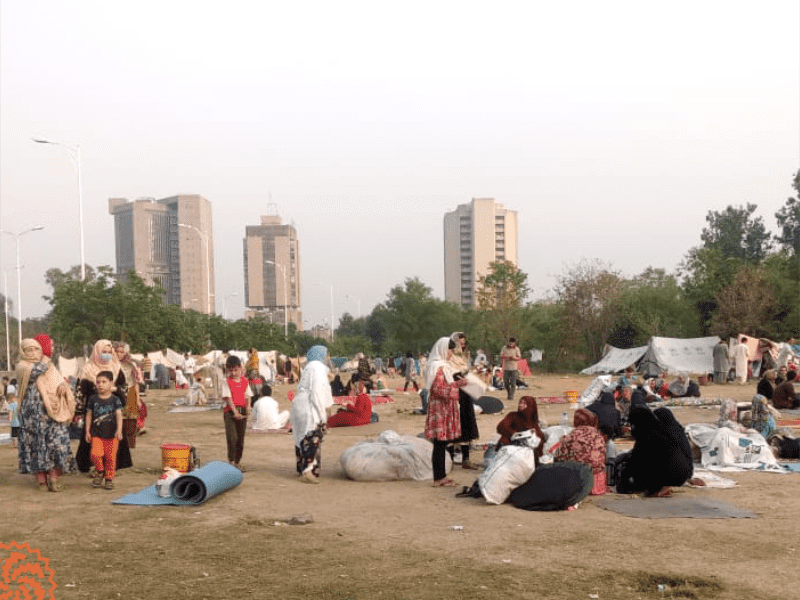 Afghan women's tents in front of the Islamabad National Press Club
His wife Tamanna Farooqi, 31, worked as an actress in a project that sought to educate Afghan girls in partnership with the British Broadcast Company (BBC). She says that it was impossible for her to live freely and safely in a Taliban-controlled Afghanistan because of her profession as an actress and for promoting girls' education – both strongly opposed by the Taliban. This, according to her, explains why she has come to Pakistan: to move to a developed country.
The Farooqis, as well as other Afghan protesters outside the National Press Club, have two demands: Pakistan guarantees them that they will not be sent back to Afghanistan and that arrangements are made to help them move to a western country as soon as possible.
"About 1,400 Afghan families are living in Islamabad alone. These consist of more than 8,000 people," says Mustafa Khyber, spokesperson of the protesters. "In Peshawar, Quetta, Karachi and Rawalpindi too, hundreds of Afghan families are waiting to either move to Europe or the United States," he says.
Unwanted arrivals?
Yunus Qarizada, 24, is also present among the Afghan protesters. He has had difficulty in walking since birth and hails from Afghanistan's northern province of Samangan. There, he was doing his masters in journalism at a local university.
His native province was taken over by the Taliban on August 9th, 2022. A few days after the occupation, he says, he went to his university on crutches. As he reached the main gate, a teen-aged Taliban soldier slapped him for sporting a beard that was allegedly not in accordance with the Islamic Shariah. It was in that moment when Qarizada made up his mind to leave Afghanistan and live elsewhere.
He initially submitted a request for a visa at the Pakistani embassy in Kabul. After waiting for it for four months in vain, he decided to enter Pakistan without a visa. After spending five days and six nights under the freezing open sky at the Pak-Afghan border, he somehow managed to cross over to Pakistan on December 28th, 2021.
He stayed at different places in Islamabad for three months but when he ran out of money, he bought a mosquito net and joined the sit-in at the National Press Club. "Several months of frustrations forced me to join this protest," he says.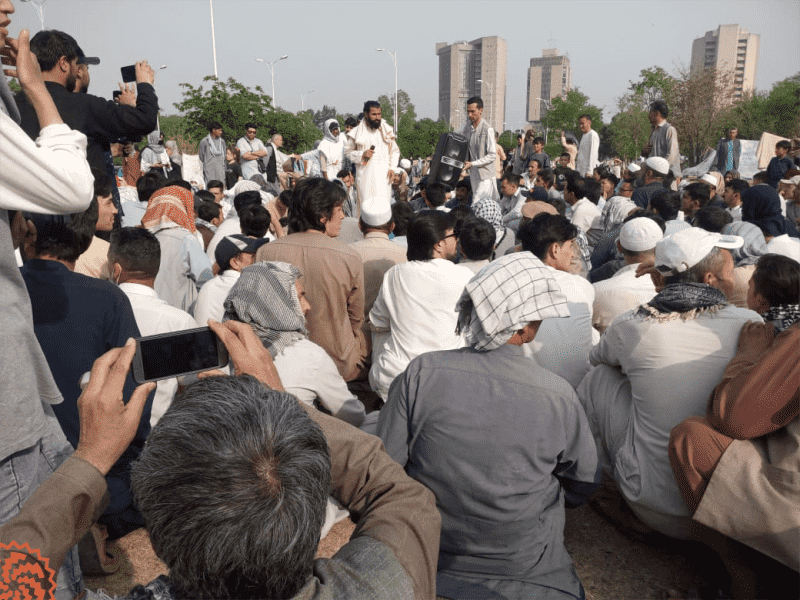 Afghan protesters gather in front of the Islamabad National Press Club
Qarizada accuses the United Nations High Commissioner for Refugees (UNHCR) for not helping the protesting Afghans in their bid to move to a European country. UNHCR, however, issued a special identification card to Afghan refugees in August 2021 so that they could move freely within Pakistan. "This card is totally useless because the police does not accept it and arrests us for staying illegally in Pakistan," says Farooqi. "We, often, have to pay bribes," he says.
One such incident took place on May 28th, 2022 when four Afghan musicians were arrested by Peshawar police in Tehkal area on the allegation that they were illegally staying in Pakistan. A Peshawar court ordered their release on bail one day later on humanitarian grounds although the law under which they were detained does not provide for a bail.
"Such an unusual decision was made because sending these artists back to Afghanistan as punishment for violating Pakistani law would have been like giving them a death sentence," says Tariq Afghan, the lawyer who represented the arrested musicians.
In response to similar difficulties faced by Afghans, Prime Minister Shahbaz Sharif announced through a tweet on June 12th, 2022 that transit visas would be issued to all Afghans stranded in Pakistan so that they could freely stay here until their transfer to a third country. The Pakistani government, however, is not ready to give them the refugee status. "We have not signed any agreement with UNHCR to accommodate these Afghans as refugees in Pakistan," explains Hilal Rehman, chairman of the relevant standing committee of the Senate.
Living in a limbo
Protests by the Afghan refugees arriving in Pakistan initially took place in front of the Foreign Office located on Islamabad's Constitution Avenue. But they were told by the authorities to move elsewhere because of the proximity of foreign embassies to the venue of their protest, Khyber explains. So, he says, "we shifted our protest camp in front of the National Press Club".
Pakistan-based UNHCR representatives have come to see them at the protest site. Instead of listening to them, however, they threatened them in an insulting tone with deportation to Afghanistan if they refused to leave the National Press Club, Khyber alleges. In response to this threat, he says, some protesters have written 'KILL US' on their clothes.
Also Read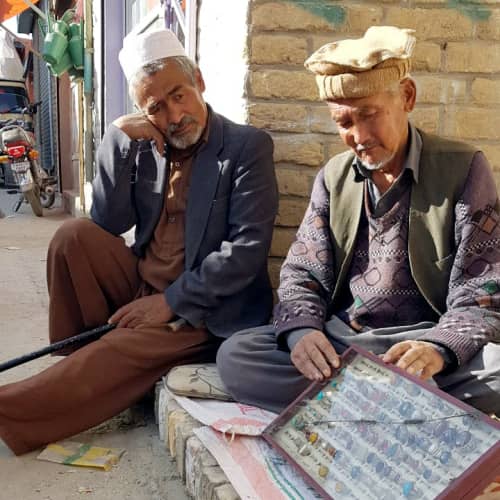 Hazara Shias of Afghanistan: 'Taliban are killing us because of our faith and ethnicity'
Qaiser Khan Afridi, a UNHCR spokesperson based in Islamabad, on the other hand, says his organization is well aware of the problems faced by the Afghans living in Pakistan and is constantly in touch with the Pakistani government to solve them. "But their demand is to move them to a developed country which is beyond the UNHCR's mandate because only those countries have the authority to decide as to how many Afghans each of them would allow in," he says while talking about the Afghans who have migrated to Pakistan after August 15th, 2021.
His organization, he adds, merely interviews them to determine which ones are facing higher security threats so that they are moved to a safe country immediately. He, however, admits that "interviews are sometimes delayed mainly because of the detailed process".
A European Commissioner officer located in the Belgian city of Brussel comments on this situation by saying: "Protecting the displaced Afghans at risk is my institution's top priority. That is why, after one of its executive meetings held on October 7th, 2021, European Union member states have pledged to provide asylum to 37,000 Afghans by the end of 2022. As a result of this promise, about 28,000 Afghans have been transferred to European countries by April 2022 and arrangements are being made to shift the rest too".