Dr Alia Haider noted that many children and youngsters in northern Lahore's Sharif Pura area had stunted physical growth. They also looked anemic.
She came across these problems in 2021-22 during a series of medical camps organized in the area by a political organization, Haqooq-e-Khalq Party (HKP), which she is a member of. "When I started these camps nine months ago, I saw that the children there were malnourished, they had blackened teeth and their gums were swollen," she says in an interview conducted in May this year. "Local women also frequently reported complications in pregnancies and deliveries," she adds.
In order to know what was causing these problems, Dr Nousheen Zaidi, another HKP member who is also a cancer biologist at Lahore's Punjab University, started doing various surveys in Sharif Pura early this year. Working with a team of students, she also gathered 300 blood samples from local households and had them tested at Chughtai Lab, a private laboratory in Lahore.
The combined results of these surveys and tests show that 52 per cent of Sharif Pura's residents are anemic. Similarly, 36 per cent of local women reported having given stillbirths; another 10 per cent reported giving birth to premature babies.
On the basis of these findings, Zaidi and her team surmised that these medical problems were being caused by the presence of lead and other heavy metals in Sharif Pura's water, air and soil. This assumption was verified by an analysis of soil samples taken from Sharif Pura. Tested by the Punjab University's Material Testing Service, these samples show that the local soil has very high lead content -- 57 times higher than the standard set by the Punjab's Environment Protection Agency.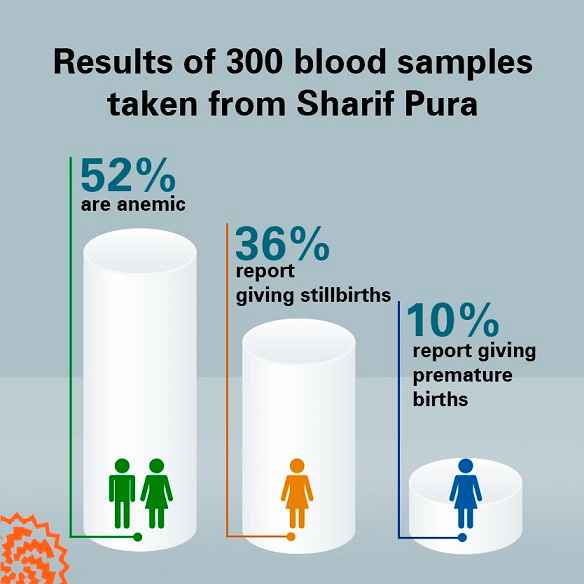 Centre for Water Informatics and Technology working at the Lahore University of Management Sciences (LUMS) also conducted similar tests on drinking water samples taken from Sharif Pura and arrived at a similar conclusion: lead concentration in these samples was 155 times higher than that permitted by the World Health Organization (WHO).
"Lead is a highly toxic metal. It affects various bodily systems and is particularly harmful to children," says Zaidi. "Chronic exposure to it affects their brains, causing coma, convulsions and even death. Children who survive such severe effects may be left with permanent intellectual disabilities," she says.
This problem, though, is not specific to Sharif Pura. "A recent review of lead levels in blood in low-income countries was published in the medical journal, Lancet Planet. It showed that Pakistani children had the second highest concentration of lead in their blood – only behind children living in the occupied Palestinian territory," she says.
The researchers led by Zaidi also found that the main source of lead poisoning in Sharif Pura is waste water being released by iron smelter plants (or foundries) working in the area. This water, she says, has corroded underground pipes of local water supply system and has, thus, become mixed in drinking water. The use of rubber tyres to fuel these smelters is also emitting lead in the air and soil of the area, she adds.
Life versus livelihood
The scorching sun is blazing over the working class neighborhood of Aziz Baig Darbar which is a pat of Sharif Pura. Plumes of jet black smoke are hovering above local streets. The air is heavy with the smell of rusting iron.
The smoke and smell are being released by 70 or so foundries located in and around Sharif Pura – all crammed within a radius of just 10 kilometers. At least eight of them are present in a single street in Aziz Baig Darbar. These foundries smelt scrap, ingot and other forms of iron and make different metallic products with it.
Imran Shahid, 35, works in one them. Drenched in sweat on a May 2022 day, he is standing in front of a huge foundry that makes construction material from smelted iron. The foundry's building is surrounded on all four sides by high walls topped with barbed wire fence. Rings of thick black smoke emanating from it are floating above it.
Wearing a grey shalwar kameez, darkened with black spots, Shahid leans forward to bend a long thin piece of iron with his bare hands. He has been working in this foundry since 2018.
Born and raised in Sharif Pura, he has two children – a son named Babar and a daughter named Sabeeha. They are ten and eight years old respectively. He says both his children have been sick and weak for many months before he took them to a local doctor.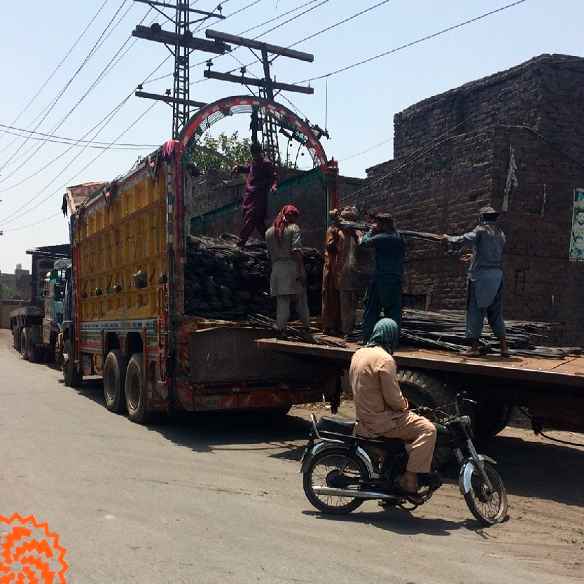 There are 70 or so foundries located in and around Sharif Pura.

The doctor diagnosed that they were suffering from ordinary flu and gave them medicine for that but they still remained ill. So, he says, he took Sabeeha to a medical camp where Haider was examining local residents.
She says Sabeeha looked no older than a four-year-old. "Her weight was much less than that of an eight year old girl." Her unusual physical condition made Haider take her blood sample for some tests.
When their results came after a month, Shahid was angry because Sabeeha's blood had lead concentration three times higher than the level permitted by WHO. He was also frustrated because there is nothing that he can do about it. "We know that wastewater and smoke emanating from these foundries is causing pollution and making our children very sick," he says, "but they cannot be shut down because a large number of local residents works in them".
Promises galore
Haider says she met Lahore's Deputy Commissioner Muhammad Umer Sher along with some of her party colleagues in May this year. "He assured us that he will solve the problems being faced by the people of Sharif Pura," she says.
Also Read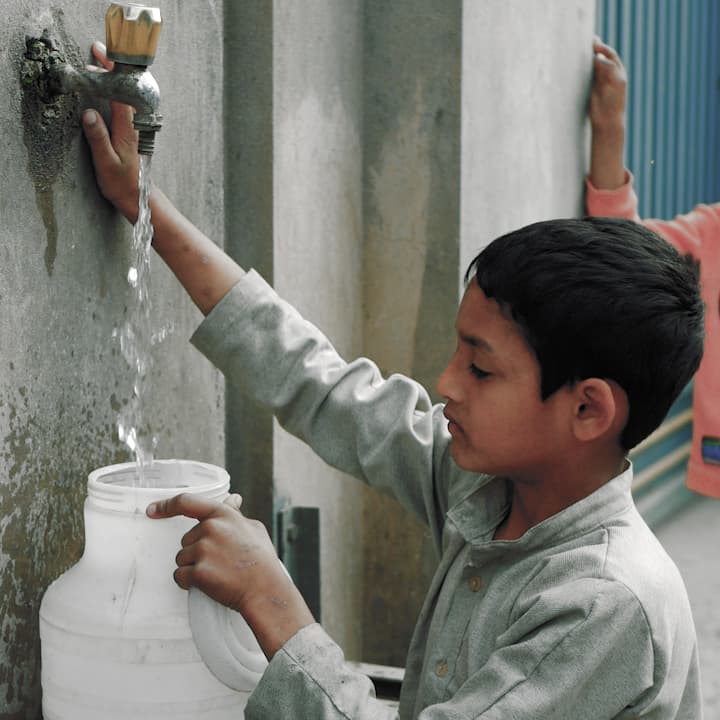 The deadly sweat of a factory: 'Ground water in Sambrial has become fully polluted'
Sher confirms this. He says he has taken note of the problems and has directed the district administration to regulate the foundries working in the area. He also claims that he has instructed the Water and Sanitation Authority (WASA) to provide clean drinking water there urgently.
Haider, though, points out that no action has been taken so far on the deputy commissioner's directives.
WASA's public relations officer Muhammad Abuzar also says that his department has received no order from the district administration to provide clean drinking water "on an emergency basis" to the residents of Sharif Pura. He, on the other hand, claims that WASA has installed a water filtration plant in the area which is providing clean drinking water to those living there.
Shahid rubbishes this claim. The only water filtration plant near Sharif Pura is located about 15 kilometers away from it, he says. And, he points out, people from so many localities go to that plant to get water that it is impossible for all the residents of his neighborhood to fulfil their needs from it. "Sharif Pura requires a water filtration plant of its own," he demands.