Too many problems, too few choices: 'Successive governments have failed to address the problems of local residents'
Raziuddin is always scared that he might lose his residence forever.
He lives in Martin Quarters, a run-down neighborhood in Karachi's East district, built in the 1950s by the government to house its employees. Almost every federal administration since the 1970s has tried to evict his family from its residence, he says. Though he and thousands of his fellow residents of Martin Quarters have received no eviction notice in the last three years, the risk of losing their houses still haunts them like the proverbial sword of Damocles hanging above someone's head.
The government says these quarters were built solely as the residences of its serving employees and were never meant to be transferred to their children. Consequently, it contends, the offspring of their original residents is now occupying them illegally.
Raziuddin, 32, on the other hand, argues that the fathers and grandfathers of their current occupants served the nascent state of Pakistan for years in a selfless manner. Their progeny, thus, needs to be compensated for the hard work of their ancestors, he says.
He narrates how his father worked at the Pakistan Security Printing Corporation for 45 years as a clerk on a meager salary which never allowed him to purchase his own house". Instead of acknowledging and rewarding his services, he complains, the government "wants to throw us out of the only shelter we have".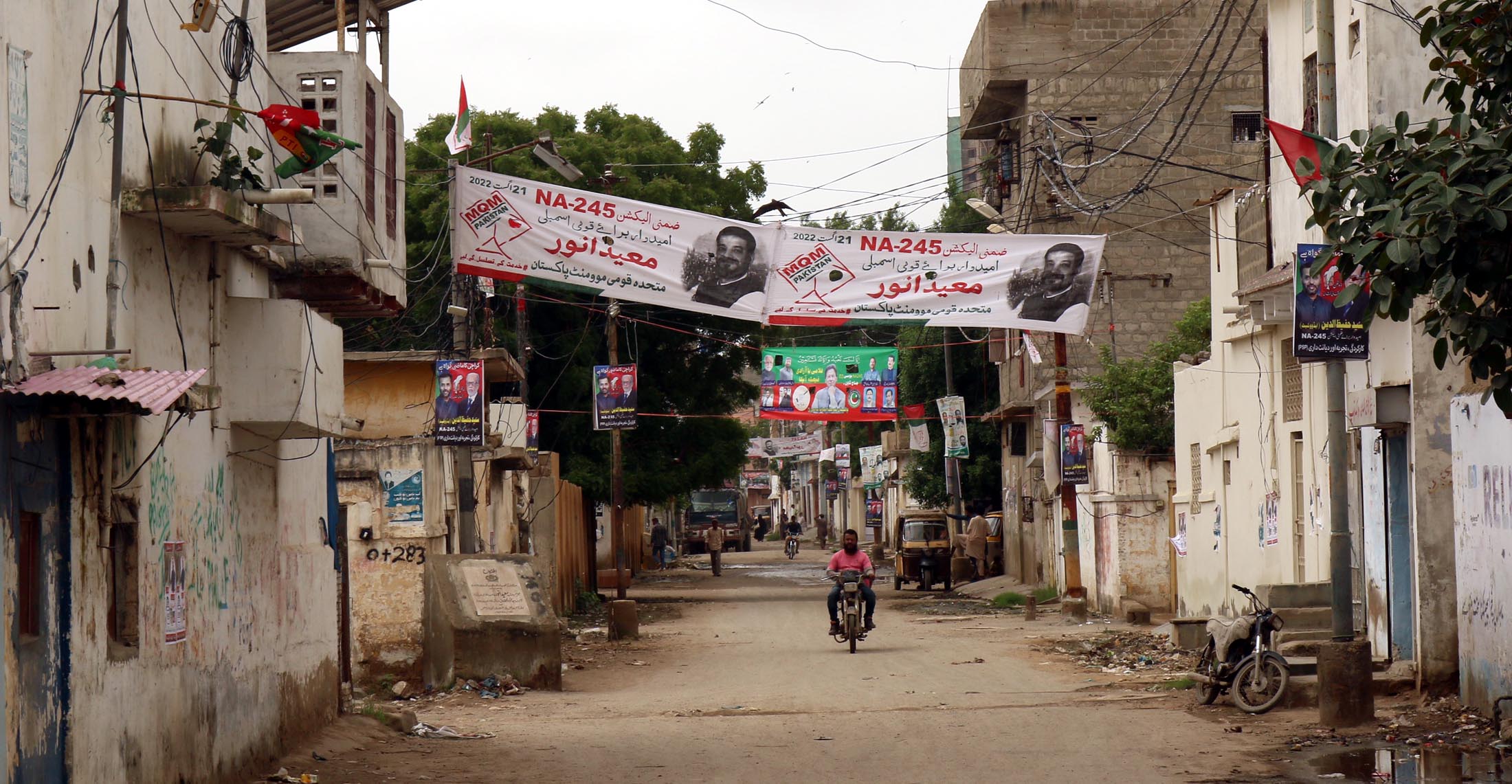 A street of Martin Quarters
Martin Quarters is part of a complex of federal government houses that includes Clayton Quarters and Jamshed Quarters as well. Each house in them originally contained two rooms and a courtyard but later their residents added more rooms to them which mostly have prefabricated cement roofs. Some people also added more floors to their residences. Others carved out shops from the houses located on Jahangir Road, Jamshed Road and Business Recorder Road. Consequently, the quarters have become a warren of congested lanes and streets overlooked by dilapidated and shabby buildings.
They fall within a National Assembly constituency, NA-245, where a by-election is being held on August 21st, 2022. The constituency fell vacant after the death of renowned television talk show host Amir Liaquat Hussain who had won it in 2018 general elections as a Pakistan Tehreek-e-Insaf (PTI) candidate.
Since these quarters house about 100,000 people (who account for around one-seventh of all the population of NA-245), their votes cannot be ignored easily. If the constituency's voters remain as divided as they were in the last general election – helping four candidates poll more than 20,000 votes – Raziuddin and his fellow residents of the government houses can easily decide the outcome of the by-election provided they choose to vote unanimously.
Probably aware of their electoral significance, several political parties and leaders have promised them over the decades that they would be given the ownership rights of their residences, says Raziuddin. None of them has done anything practical in this regard, he says.
He, however, reveals that he is planning to vote for the Muttahida Qaumi Movement (MQM) in the by-election because, according to him, it "at least raises its voice about our problems". MQM, indeed, claims to represent people exactly like him: the children and grandchildren of migrants who left their homes and hearths in what is now India and came to live in Pakistan. Resultantly, they have voted mostly, if not entirely, in its favour between 1988 and 2013.
NA-245 has a similar electoral history because a large part of its total population of 744,475 people is what in local parlance is called Urdu-speaking mohajirs – or the descendants of the migrants.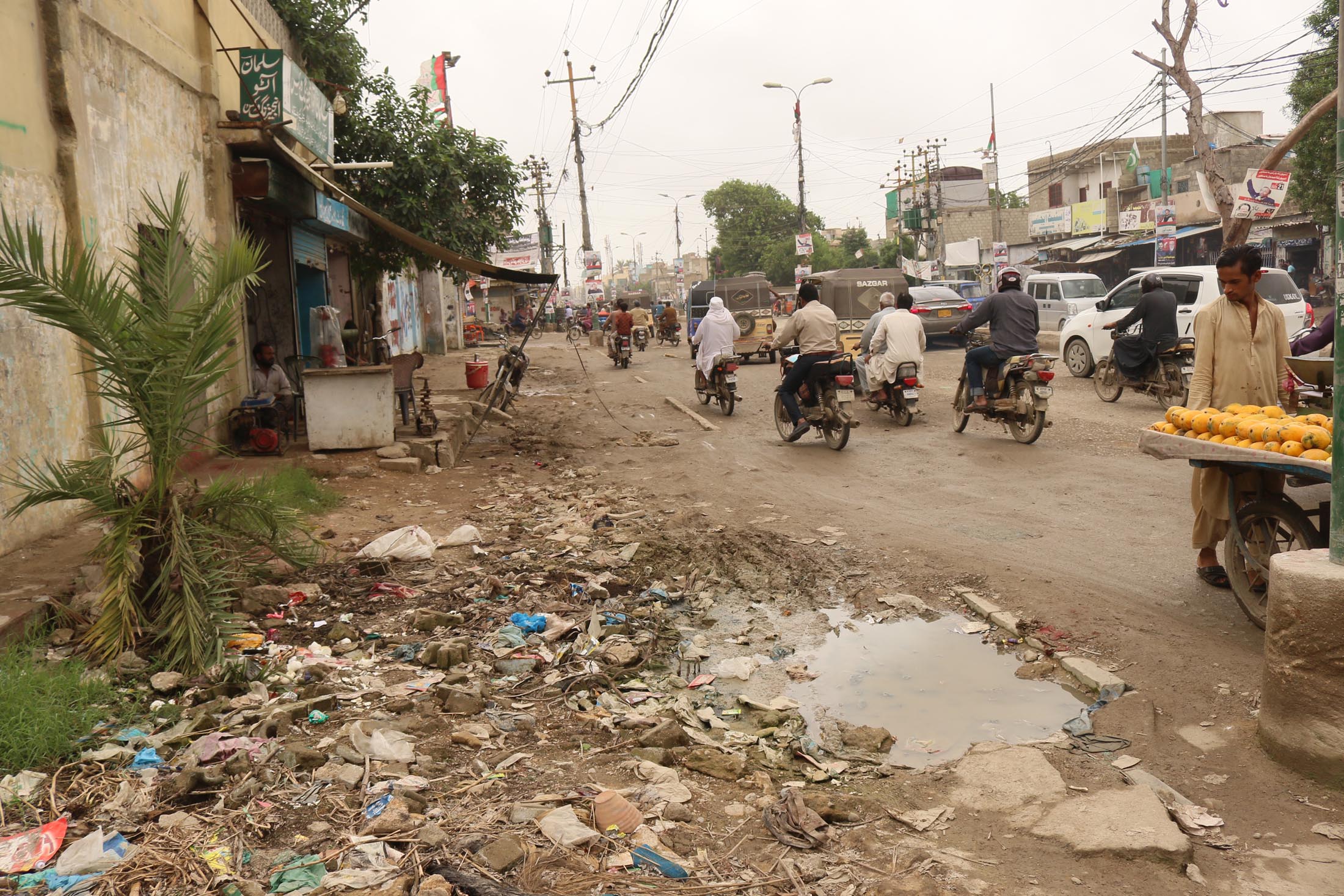 A garbage dump in NA-245
This trend, though, was upended in the last general election. Hussain -- who had been a prominent MQM member before he joined PTI in early 2018 -- secured more than 56,000 votes in this constituency, beating his MQM rival by a margin of more than 20,000 votes. This clearly suggests that the residents of NA-245 in general and those living in the quarters, in particular, did not vote as overwhelmingly in MQM's favour in 2018 as they had done before that.
If Raziuddin's vow to vote for MQM is anything to go by, the party might re-rally its support among them. For this to happen, however, they will have to overlook the fact that it has been unsuccessful in fulfilling their demand for the ownership rights of their houses even after being a part of several ruling configurations since 1988.
"Successive governments have failed to give ownership rights to the residents of Martin Quarters and Clayton Quarters, admits Dr Farooq Sattar, a former stalwart of MQM and an independent candidate for the by-election. "I, however, have assured them that I will not let anyone evict them from their houses," he says and narrates how, a few years ago, he braved teargas shelling and baton charge from the police to stop their eviction.
Caught between a drain and a flooded road
NA-245 is a vast constituency, crisscrossing many of Karachi's main thoroughfares such as University Road, M A Jinnah Road and Shara-e-Faisal. Some of the city's most known landmarks – Jinnah's mausoleum, zoological garden and central jail – also fall within its limits.
It mostly consists of lower middle class and working class areas such as PIB Colony, Martin Quarters, Clayton Quarters, Jamshed Quarters, Lasbela chowrangi, Garden East, Essa Nagri, Khudadad Colony and Lines Area. A minor part of its residents, though, also lives in the relatively wealthy neighborhoods of Sindhi Muslim Cooperative Housing Society, Nursery, PECHS Block 2 and Block 6, Parsi Colony and Fatima Jinnah Colony.
Other than the unmet demands of the people living in the federal government's quarters, the biggest problem faced by the people here is the disposal of sewage. Just to highlight its most glaring manifestation, one of the constituency's main traffic arteries, Jahangir Road, is always flooded with liquid waste. Merely 1.7 kilometers long and connecting Teen Hatti area on Lyari Expressway with Grumandir located close to Jinnah's mausoleum, it is a route of choice for people travelling from Karachi East to Karachi South for work and business.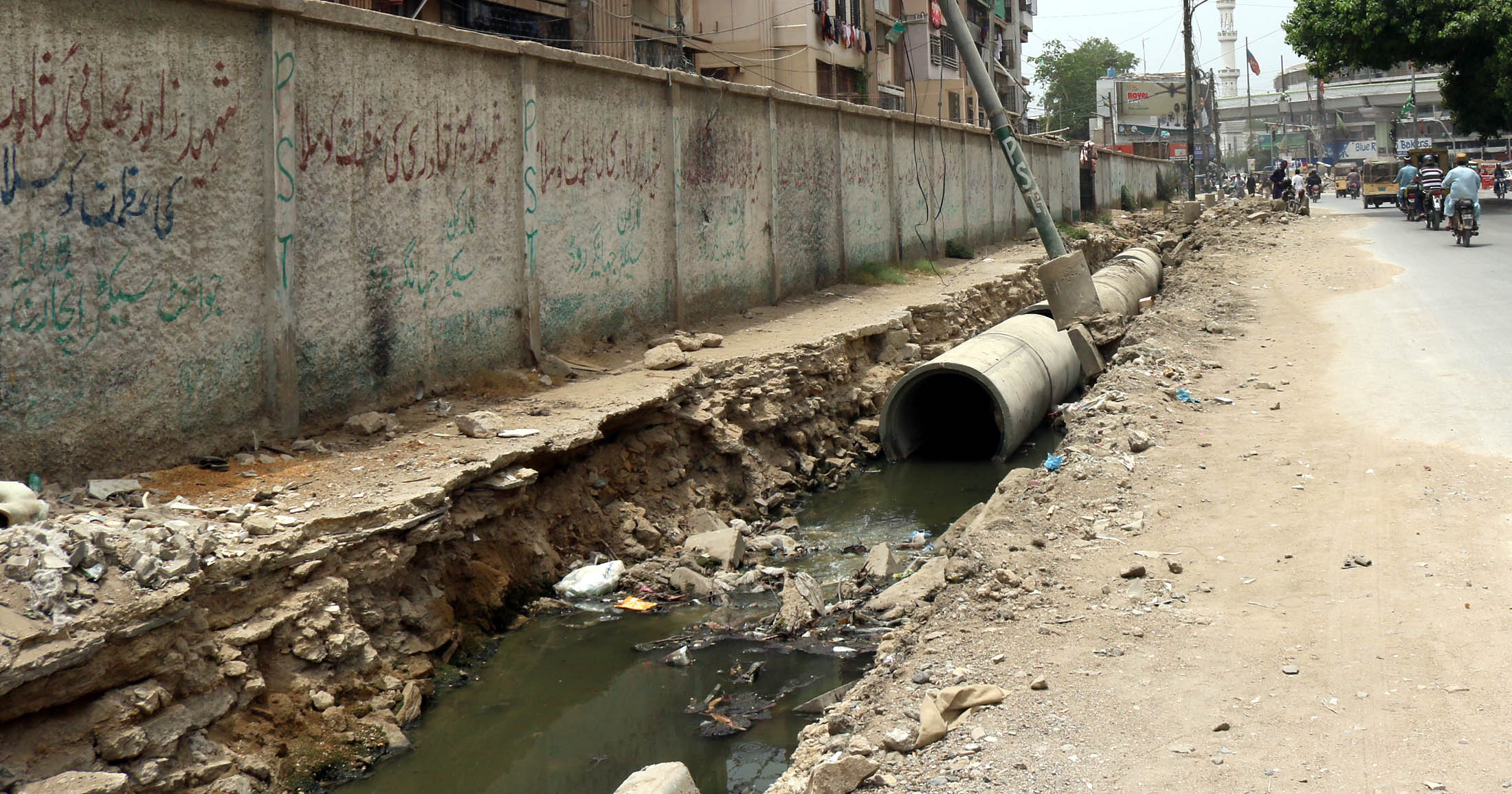 A broken sewage line
Local residents complain that sewage often overflows and inundates Jahangir Road's two-way track, slowing down the movement of vehicles and causing frequent traffic jams. It has been rebuilt and repaired twice over the last six months – first with the federal government funds procured by Hussain and then by the Karachi Metropolitan Corporation – but it is still in a shambles.
Raziuddin says the road's worn-down condition is causing many problems for the people living in the quarters. "The motorist trying to avoid it use the narrow lanes of Martin Quarters and Clayton Quarters, causing traffic hazards for local residents," he says.
PECHS block-6 also suffers from a similar problem. Sandwiched between the working class neighborhood of Mehmoodabad to its south and Shahra-e-Faisal to its north, it frequently experiences urban flooding due to an almost permanent blockage of its sewage drains. "Neither the provincial administration nor the federal government has tried to solve the drainage problem here," says Nauman Shah, a local resident.
Consequently, he says, "when it rains, houses here get flooded and fixtures and furniture in them get destroyed".
He voted for PTI in 2018 general elections but, he says, its federal government has not resolved any of his neighborhood's problems. So, he says, he and "many others local residents might vote for a different party this time round".
Moeed Anwar, MQM's candidate for the by-election, also admits to being embarrassed by the deteriorating civic infrastructure in the constituency, made even worse by the ongoing rains. "Wherever I go for campaigning, people complain about sewage overflow, lack of clean drinking water, broken roads, electricity load-shedding and price hike," he says. "This is making it a bit difficult for me to garner electoral support."
Fast forward to 2018: Will MQM be able to avoid what befell it in the previous general elections?
Altaf Hussain, the founding supremo of the Muttahida Qaumi Movement (MQM), delivered a self-destroying telephonic speech on August 21st, 2016 to an audience of his supporters. The venue was Karachi Press Club and the occasion was a hunger strike being observed to protest the alleged enforced disappearance of MQM members. He called Pakistan a "cancer", a "headache for the entire world" and the "epicenter of terrorism".
Exactly six years after his anti-Pakistan diatribe, MQM's candidate for a by-election being held on August 21st, 2022 in one of Karachi's 21 National Assembly constituencies, NA-245, will still be fighting the demons set in motion by that speech. He is facing disillusioned supporters, visibly disgruntled voters and several strong challengers including two former associates of his own party.
So, will MQM be able to prove that it has got out of its founder's ominous shadow and that it still enjoys the unwavering support of its core constituency -- the Urdu-speaking mohajjr population of Karachi? The answer is certainly not a straightforward one. Two of the most important factors that contribute to its complexity are the recent electoral history of NA-245 and its ethnic composition.
The constituency became vacant after its winner in the 2018 general elections, Dr Amir Liaquat Hussain, died in June this year. He had started his political career as an MQM member, becoming a minister of state in the federal administration of General Pervez Musharraf after winning a National Assembly seat from Karachi in 2002. He later became a showbiz celebrity, thanks to the massive popularity of his religious talk shows, and joined Pakistan Tehreek-e-Insaf (PTI) only a few months before the 2018 general elections.
In those polls, his main rival was Dr Farooq Sattar who was once considered the second most important person in MQM after its discredited founder. But, although he was still an MQM candidate, he did not enjoy the wholehearted support of its rank and file. In fact, only weeks before going into the election, he saw the party's control slipping out of his hands and shifting to Khalid Maqbool Siddiqui, a long-time MQM loyalist who never enjoyed as much limelight as Sattar did.
Their tussle for the party's top slot was a major reason why Sattar lost the election by a large margin of more than 20,000 votes in a constituency which MQM would win almost hands down in the past. His differences with Siddiqui also resulted in the emergence of their separate MQM factions. Overtime, however, Sattar has been sidelined so much in the party that he is now contesting the by-election as an independent candidate. Yet, his presence in the electoral arena has the potential to hurt MQM a great deal.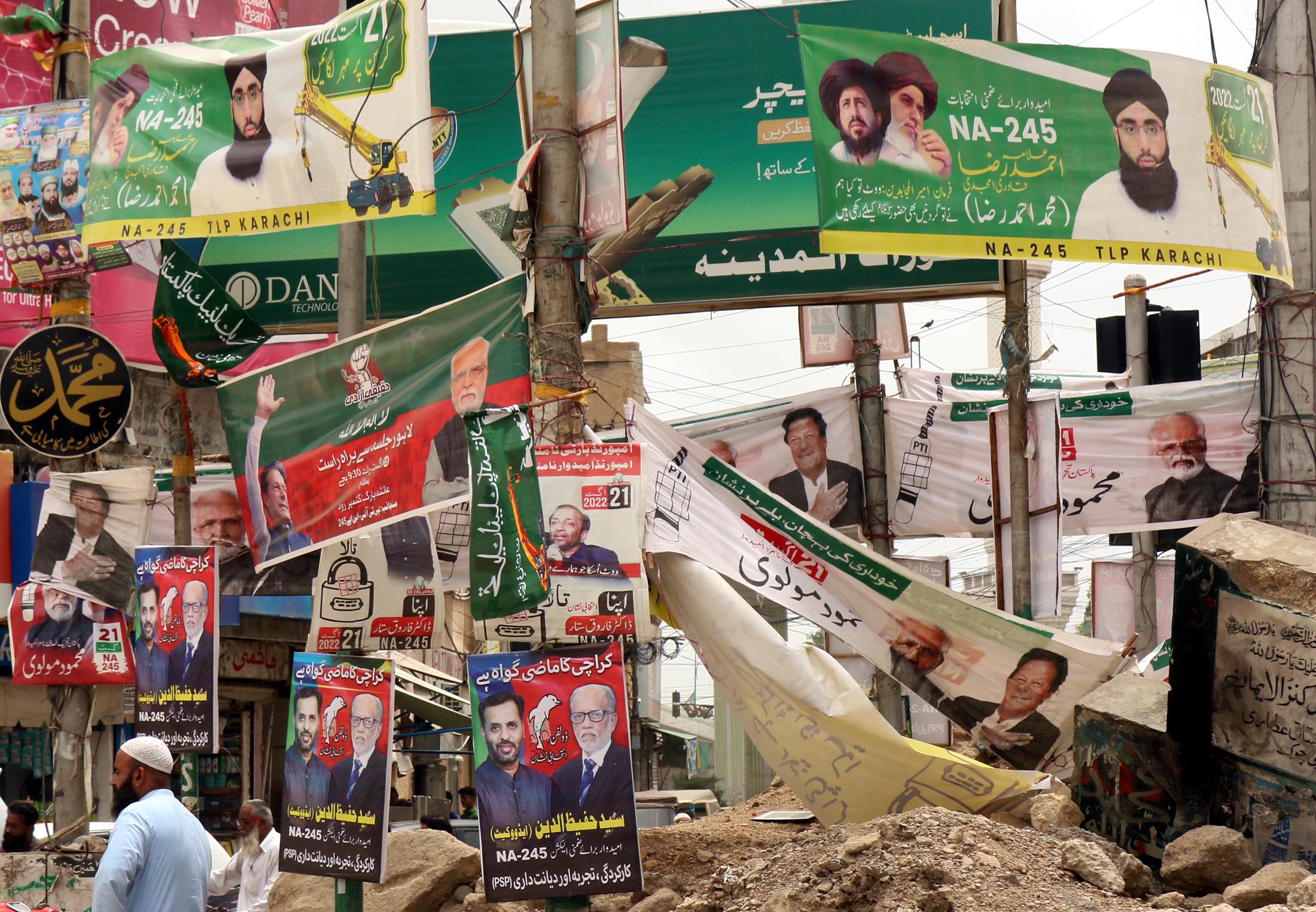 Election banners above a dug-up sewerage line in NA-245
The other factor, the constituency's rather mixed ethnic composition, could also have a negative impact on MQM's electoral fortunes here. Urdu-speaking voters had an overwhelming presence in it till 2013 general elections, says Usman Farooq, a Karachi-based lawyer who has a vast experience of election-related litigation. Since then, some of its constituent areas with a predominant Urdu-speaking population have been excluded from it and have been replaced by areas which have a significant population of Punjabi and Pakhtun voters, he says.
This could benefit PTI which has been able to galvanize the support of Karachi's most non-mohajir voters in its favour in recent times.
Service delivery versus identity politics
MQM's fortress in Karachi started to show signs of decay in 2013 – much before Altaf Hussain made his venomous speech. Although it won 17 out of the city's 20 National Assembly seats in that year's general elections, it was the first time that it faced a political force in the shape of PTI that could get votes all across Karachi.
Unlike its other rivals, such as Jamaat-e-Islami (JI) and Pakistan Peoples Party (PPP), which enjoyed support only in certain selected areas, PTI showed that it has widespread support in the city, cutting across seemingly rigid ethnic and ideological divides. In the end, it could win only one seat but its candidates came second in 17 constituencies. One of them, Subhan Ali Sahil, was defeated only by less than 5000 votes in district West.
MQM's internal splits also started becoming obvious in and around 2013. That year, Mustafa Kamal, its former mayor of Karachi, resigned as a senator and flew out of Pakistan. In March 2016, he came back and set up Pak Sarzameen Party (PSP) by uniting many MQM members who were not happy with how it was being run by Altaf Husain from his safe vantage point in London.
In other words, MQM was a much weaker political force than ever before when it contested the 2018 general elections. Yet, its performance in the polls surprised, if not altogether shocked, many of its sympathizers: it could win only four out of Karachi's 21 National Assembly constituencies. In many of its former strongholds, its candidates did not even come second. That slot went to a surging Tehree-e-Labbaik Pakistan (TLP) which campaigned on an anti-blasphemy religious ticket and won huge support among the urban working class.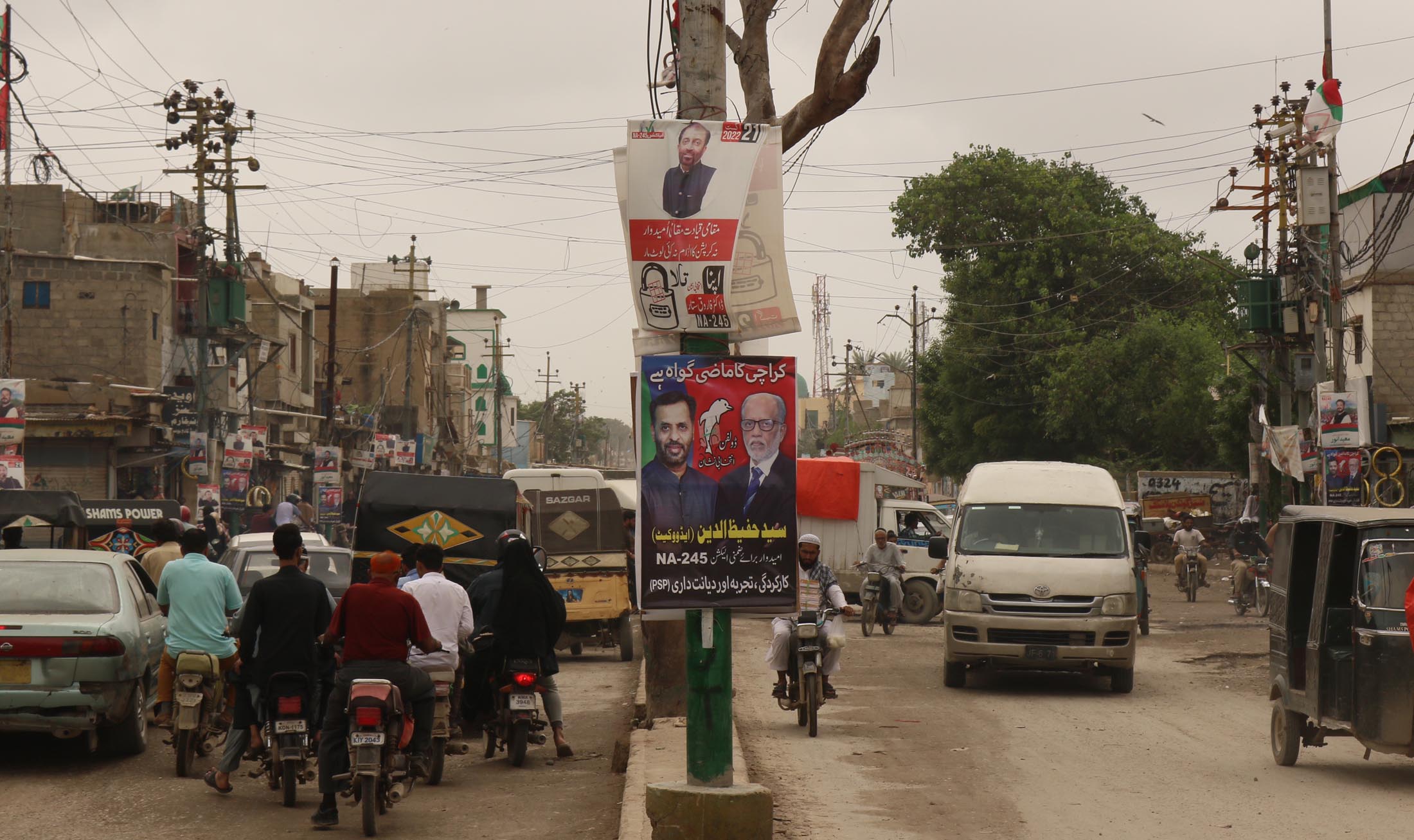 A view of Jahangir Road that runs through NA-245
MQM's candidate in NA-245 by-election, Moeed Anwar, will be facing all the challenges mentioned above. He is vying against some of his former political colleagues including Hafeezuddin who is running as a candidate of Kamal's PSP. The religious voters seem to be heavily tilted towards TLP and even Urdu-speaking residents of many parts of the constituency are not happy with his party's performance. They complain that they always voted for it in the past but it has failed to deliver the goods to them despite being a part of several governments since 1988.
Anwar, a former elected chairman of District Municipal Corporation (DMC) East, acknowledges that MQM has failed to resolve the problems being faced by the people of Karachi but he blames PPP, which has been ruling Sindh province since 2008, for that failure. "The city's problems can only be addressed by an empowered local government but [the province's ruling party] does not seem to accept that," he says.
PPP, however, has withdrawn its own NA-245 candidate in Anwar's favour -- as has Jamiat Ulema-e-Islam (Fazal) – because they are both MQM's partners in the coalition government at the Center. But they are minor players in this constituency so their absence from the contest might not help MQM much.
This makes Sattar a potential dark horse – particularly if he can rally the disgruntled elements of MQM around himself in such Urdu-speaking areas as Martin Quarters, Jamshed Quarters and Clayton Quarters. He claims to have worked "fearlessly" to stop their eviction from the government residences they have been living in since the 1950s.
He also reveals that he has garnered the support of Grand Democratic Alliance, a conglomerate of several small parties with some support in rural parts of Sindh but next to no electoral clout in Karachi. Similarly, he is expecting two religious political parties, JI and Sunni Tehreek, to support his candidature because they have not fielded their own candidates in the by-election. "I am hopeful that the Sunni Tehreek will support me," he says and adds that his aides are also "in touch with JI's leaders" in Karachi since it has "at least 18,000 loyal voters" in this constituency.
Muhammad Ahmed Raza, the TLP candidate, could be another spoiled for MQM -- if not a front runner himself. Given that he received more than 20,000 votes in the 2018 general elections as the nominee of the same party in this same constituency, he will be expecting the urban poor, hobbled by unprecedented inflation and ever-rising energy costs, to rally behind him in larger numbers than they did four years ago. In the case of a low voter turnout on polling day, he may prove to be a much stronger candidate – just as a TLP candidate did in a recent by-election in Karachi's Korangi district, losing the contest only by 65 votes.
PTI's candidate Mehmood Baqi Molvi, on the other hand, is confident of his victory. "The people of this constituency voted for a PTI candidate in the last general elections and they still love this party. They are crazy about Imran Khan's party," he says and claims that, in an "independent survey", eight out of every ten voters in NA-245 have shown their intention to vote for his party.
Such "independent surveys", however, have been proven wrong in recent past in other parts of Pakistan. Especially considering that Imran Khan's federal government failed to address any of Karachi's civic problems in its three and a half years in power and that its economic policies hurt the urban poor a lot, voters in NA-245, too, can throw up an unexpected result.